Oyster Consulting [Bermuda] Ltd hosted its inaugural Regulatory Compliance Seminar on July 26, with panelists discussing changes to Bermuda's anti-money laundering/anti-terrorist financing requirements, cybersecurity, and conducting investment advisory business in the United States.
Oyster Consulting [Bermuda] Consultant Henry Komansky said, "Over the past year, Bermuda has been updating its legislation to address gaps in the AML/ATF framework and bring Bermuda in line with 2012 FATF 40 recommendations, interpretive notes and updates.
"It appears that legislative change will continue as the island prepares for its 2018 AML/ATF country evaluation.
"We regularly advise clients to take control of their AML/ATF regime by following a few key concepts: Know your Business, Know Your Customer, conducting an annual AML/ATF Audit and periodically addressing their AML/ATF & Sanctions Risk in relation to their business."
A spokesperson said, "Cybersecurity continues to be a hot topic around the globe as regulations evolve and firms move to protect themselves in case of a cybersecurity event.
Oyster Consulting LLC Founder and CEO Buddy Doyle said, "Oyster Consulting is in the business of helping organisations start, run, grow and protect their firm. The rapidly evolving markets, regulatory changes, and enforcement actions, combined with emerging threats from criminals is creating an unpresented amount of change.
"Unfortunately, compliance officers often do not have the resources they need to meet today's regulatory and risk environment."
Henry Komansky, Buddy Doyle, Alison Morrison, and Hank Sanchez: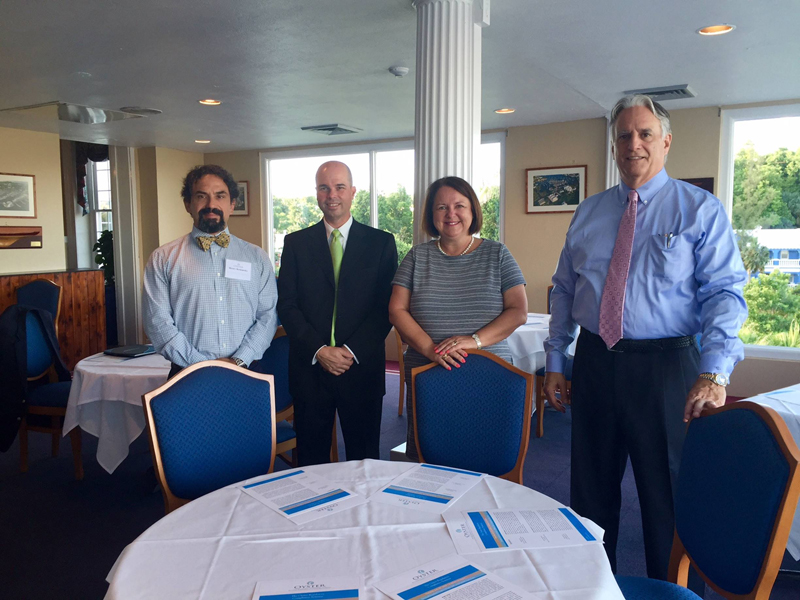 "Oyster Consulting LLC Managing Director Hank Sanchez discussed the U.S. Regulatory environment, the Securities and Exchange Commission [SEC] Focus for 2016, and what firms can look for in 2017 and beyond. Oyster assists firms by either taking on the role of Chief Compliance Officer, or by assisting the firm's Chief Compliance Officer with the compliance program.
"Participants were enthusiastic about the event and came away with a clearer understanding of what the regulatory issues are and what can be done to ensure they stay on top of the changes."
Teresa Gallant, CPA,CA; Chief Financial Officer, Chief Compliance Officer and Managing Director of ILS Capital Management Ltd said, "It was an excellent seminar. I learned a lot and the presentations were very relevant to my line of work."
Sean Moran, Business Development Manager of Bermuda Business Development Agency, said, "I found the seminar very informative and timely. With so many changes happening so rapidly in the world of regulation and compliance, it was valuable to hear updates on the current issues facing fund industry professionals, including AML/KYC, cyber-security, and the SEC's new Investment Advisor rules.
"The presentations by Henry, Hank and Buddy also served to demonstrate the strength and expertise of Oyster Consulting's team. It is certainly an asset for Bermuda to have such a high quality group represented here; it reinforces the message that our jurisdiction is developing into a hub for regulatory compliance expertise and talent."
Alison Morrison, Managing Director of Oyster Consulting [Bermuda] Ltd, said, "I was delighted with the overwhelming interest in attending our first Seminar. I think all three topics were relevant and in light of local regulatory changes, very timely for those in attendance.
"Oyster is unique in being able to bridge the regulatory gap between Bermuda and the US, and now with our office in Luxembourg, we can also help clients navigate the European regulatory regime."
"Starting next month, Henry Komansky will be hosting a series of Lunch and Learn sessions. For more information on these or other compliance topics, please contact Henry Komansky at henry.komansky@oyster.bm or visit the website.
Read More About