Reza Baluchi — who keeps trying to travel from Florida to Bermuda in a bubble — was reportedly committed to a Jacksonville psychiatric hospital under the Florida Mental Health Act after making his third attempt at the 1,000 mile journey.
In his effort to avoid the Coast Guard, Mr Baluchi tried to begin his latest attempt from international waters, so had his bubble towed offshore to begin his journey, however the Coast Guard stopped him for the third time.
He initially refused to leave his bubble, and once he did and got on the Coast Guard ship, the crew reportedly "slapped handcuffs on him" and transported him a psychiatric hospital. He has now been released.
This is Mr Baluchi's third attempt, his first attempt in 2014 resulted in him being rescued by the Coast Guard after being found disoriented and asking for directions to Bermuda.
He made his second attempt in April 2016, and was stopped by the Coast Guard who said it was an "inherently unsafe voyage attempt."
The Coast Guard stopping Mr Baluchi on his second attempt back in April: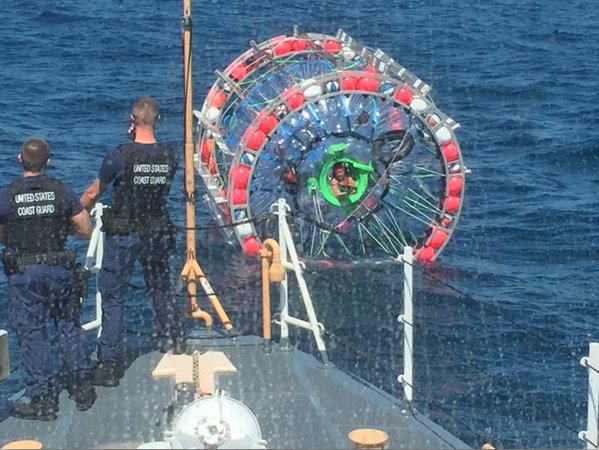 The Sun Sentinel reports, "During his latest attempt, Coast Guard officials said Baluchi, 44, 'pulled out a knife, held it to his chest' and threatened to kill himself if they didn't let him continue his journey, according to a Jacksonville Sheriff's Office report.
"When Baluchi was interviewed by Jacksonville authorities, he denied ever putting a knife to his chest. Reached by phone Thursday, Baluchi said: 'Why would I want to kill myself? I am a survivor.'
"During the interview with authorities, Baluchi said that when the Coast Guard warned him he could die inside his bubble, he said he 'was prepared to die' for his cause — raising money for abused children."
"Jacksonville authorities determined he posed a danger to himself and took him to Jacksonville Medical Health Resource Center. He was released shortly thereafter.
"Baluchi was about 90 miles off the coast of Jacksonville when the Coast Guard ended his trip. He said they shot at his buoyancy balls and sank his bubble."
BrowardPalmBeach report, "On July 9, the U.S. Coast Guard cutter Robert Yered cut short Baluchi's attempt to become the first person to run 1,000 miles across the sea.
"It was the third time in two years authorities had foiled the Iranian-born extreme athlete's plan to make history. Afterward, authorities sank his bubble, returned him to shore in handcuffs, and committed him to a psychiatric hospital."
Earlier this year, the Coast Guard sent Mr Baluchi formal correspondence [PDF] saying he is "not authorized to depart" and "violation of this order may result in criminal penalties of up to 7 years confinement and a $40,000 fine."
The U.S. Coast Guard has reportedly spent more than $200,000 on the three rescue attempts, and in their warning letter, the Coast Guard told Mr Baluchi he "placed an enormous financial burden on the taxpayers."
Read More About