The Bermuda Bicycle Association's 2016 road racing season is winding down, however racing was in full swing Sunday morning in Warwick and Paget. Dominique Mayho continued his local winning ways in the A category while Gary Raynor earned his first road race victory in the B group.
The Bicycle Works Road Race — which started and finished by Astwood Park — took in an 11 mile loop on South Road and Middle Road, including the Elbow Beach hill for all categories.
While Mayho was the expected winner in the 55 mile A race, Mark Hatherley of Winners Edge showed he is still a serious contender by bridging across to a break instigated by Mayho and Fabian Schonenberg of Team Tokio. While Schonenberg eventually faded and finished fifth, the heat and humidity of the day were the most challenging of obstacles.
Gary Raynor winning the B category race ahead of Jonah Jones. Photo by Rochelle Smith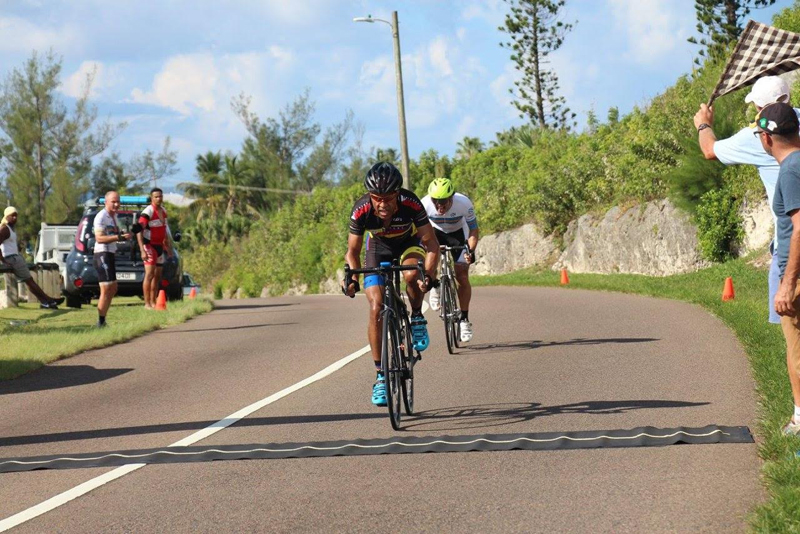 In the B group, Raynor used his quick turn of speed to out-sprint Jonah Jones of Team Tokio. Halfway through the category's 44 mile contest Jones pushed off the front and was quickly joined by Raynor and Revelin Minihane of Bicycle Works.
The three gradually built up a lead of over one minute but on the last lap Minihane ran out of gas due to the relentless pace set by Jones. This left the remnants of the peloton to contest the sprint for third place which was taken by Adam Kirk of Winners Edge.
The C group race was won in a sprint by Garth Fleming of Team Tokio ahead of Paulo Medeiros of Winners Edge and teenager Ziani Burgess of Team Tokio. Burgesson continues to ride impressively despite not yet reaching his fourteenth birthday and shows promise for developing into a strong cyclist.
Rose-Anna Hoey, one of the island's top runners, took the Women category race from her Madison-Digicel teammate April Joyce with Penelope Butterfield in third.
In the younger categories, Caleb Ingham won the Junior A race over a rapidly developing Tommy Marshall and then Liam Flannery. The Junior B winner was Manning Smith with Ethan Butterfield in second and Gordon Smith in third.
Next Sunday the BBA's action moves to Hamilton for a criterium starting at 8:00am. Details on the event can be found at www.bermudabicycle.org
The full Bicycle Works Road Race Results follow below [PDF here]:

Read More About