The Bermuda Environmental Sustainability Taskforce [BEST] announced the official launch of their new website and new logo.
"We are delighted to invite the community to visit the new website, www.best.org.bm, to access information, resources and progress on the latest issues affecting the physical environment, primarily, but also the social and economic environments in Bermuda," BEST said.
"BEST's Mission is to preserve and enhance the quality of life in Bermuda for present and future generations by engaging with the community to advocate for the sustainability and management of these issues.
"Our goals for the new website were to make it more responsive, easier to navigate and allow us to update it, so we can share our news with you as soon as possible.
"Most importantly, we wanted to help the community to get to know us better and make it easier to participate in a sustainable future for Bermuda. Take a look around the new website and we think you'll get a very good idea of who we are and the critical work we do.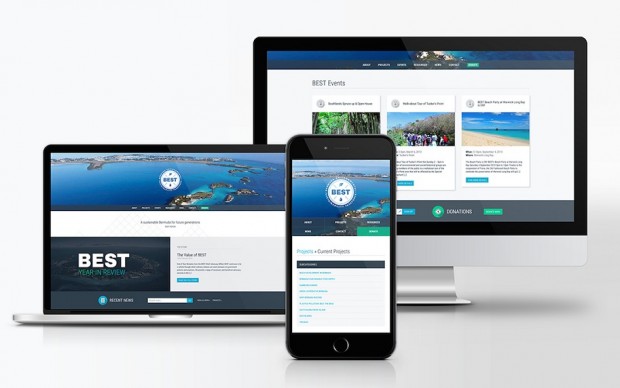 Stuart Hayward, Chief Advocacy Officer and President of the Board, explains, 'Our website is a two-way channel for communication with our BEST friends, volunteers and clients.
"Through the site we share our research, give access to our publications and articles, alert the public to issues, and provide guidance for tackling public environmental issues. It is also a way for members of the public to ask us questions, join in conversations and donate time and or funds.
"We are are especially proud of our resources section designed to steer members of the public to the individuals or agencies who can provide solutions to environmental problems they are experiencing.'
Kim Smith, Project Coordinator at BEST sums it up, 'It's not always possible to know where one's supporters are and so, as a critical tool for reflecting the work and spirit of BEST and to provide a link to those who share our interest in striving for a sustainable Bermuda for future generations, we invested in the update of the BEST website.
"We hope the new site inspires interest and energy to join us in preserving our island home.'
BEST added, "We are very excited to invite everyone visiting the new website to enter our contest for an amazing tour of Trunk Island with David Wingate on Saturday, October 30th.
"Simply find the article 'Bermuda's Environmental Warrior on our website and answer the question: Who is BEST's mascot? E-mail your answer to office@best.org.bm to be entered into the draw. The draw will take place on Friday, October 14th and six lucky winners will accompany David Wingate on a tour of Trunk Island.
"David proudly describes the transformation on Trunk Island, 'The BZS project on Trunk island is the most exciting and promising combination of natural history education and nature reserve management training with actual nature reserve restoration since the "Living Museum" nature reserve concept was first initiated on Nonsuch island.'
"Please visit our new website and join the call, or at least stay up to date, to preserve the quality of life for all by creating an environmentally sustainable Bermuda."

Read More About
Category: All, Environment, technology