L'Alliance Française of Bermuda is inviting the public to its next monthly french film [with English subtitles] with a showing of 'Demain', an award-winning French environmental documentary.
The showing will take place on Tuesday, October 4 at 7.30pm in the BUEI auditorium.
A spokesperson said, "A special evening for its first screening in Bermuda is being organised on Tuesday 4th October at 7:30 pm at BUEI. This event is under the patronage of the Honourable Minister of the Environment Cole Simons and Mrs Simons.
"The following week, several educational visits by the local schools are scheduled. After a short presentation, the students will watch a few chapters of the movie and this screening will be combined with a tour of the plastic exhibition, currently installed at BUEI."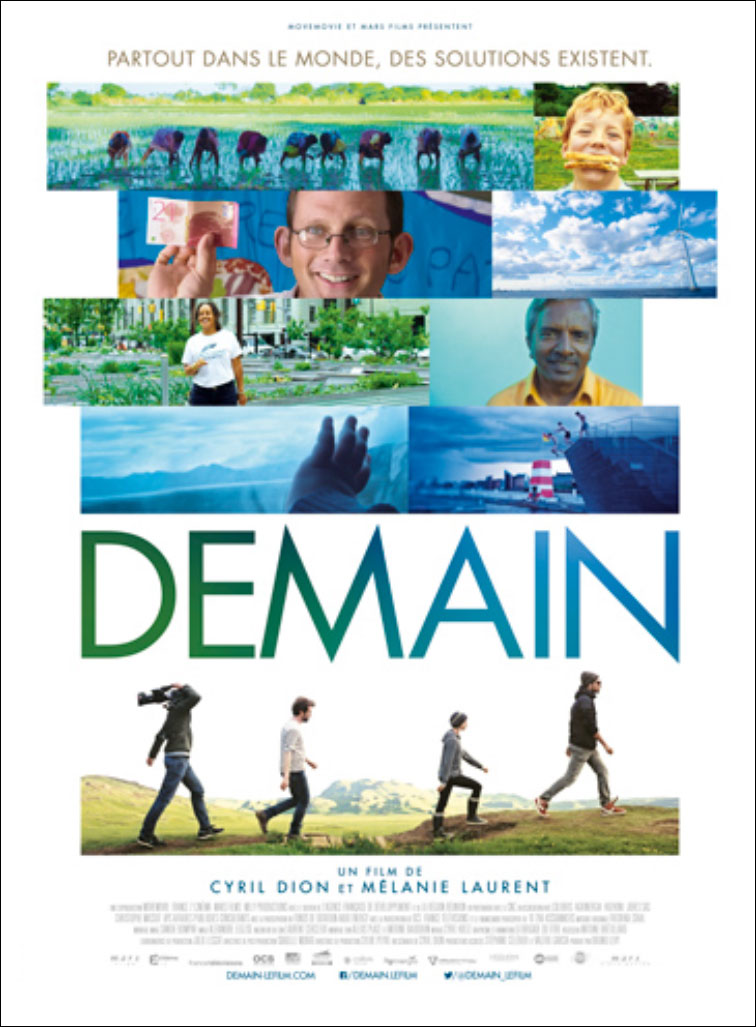 "'Demain' has been described by many movie critics as "a feel-good documentary" and Marc Morabito, President of the Alliance Française in Bermuda agrees: "I am happy and proud that the Alliance Francaise has decided to help promote the environmental cause in a positive and optimistic fashion.
"While addressing the seriousness of the issue at hand, the film 'Demain' offers practical everyday solutions to improving our local environment and leaves its audiences comforted in the knowledge that improvement is not just desirable but eminently possible.
"The Alliance Francaise is gratified to receive the support of the Honourable Minister of the Environment, Mr Cole Simons and Mrs Simons, in this project in which the 'Demain' will be seen not only by general audiences but also a number of selected Bermudian students thanks to the cooperation of the Bermuda Underwater Exploration Institute.
"Showing solutions, telling a feel-good story… this may be the best way to solve the ecological, economical and social crises that our countries are going through.
"The story in 'Demain' develops as follows: As mankind is threatened by the collapse of the ecosystem, Cyril, Mélanie, Alexandre, Laurent, Raphäel and Antoine, all in their thirties, explore the world in search of solutions that can save their children, and with them, future generations.
"Using the most successful experiments in every area [agriculture, energy, habitat, economics, education, politics] they try to piece together the puzzle which may tell a new story of the future.
"After a special briefing for the journal Nature revealed a looming environmental and ecological crisis before the end of the 21st century, Cyril Dion and Mélanie Laurent, together with a team of four people, carried out an investigation in ten different countries to figure out what is leading to this disaster and above all how to avoid it.
"During their journey, they met the pioneers who are re-inventing agriculture, energy, economy, democracy and education. By joining those concrete and positive actions that are already working, they began to figure out what could be tomorrow's world."
"After more than one million viewings in France, Demain is now showing in 27 countries and is the winner of the 2016 César for Best Documentary. One-third [450,000 euros] of the budget for the movie was raised via a successful crowdfunding campaign, a record in France.
"L'Alliance's members are not only from France but from many French andFrancophone regions and countries around the world, including Switzerland and Luxembourg, La Réunion, Le Québec and l'Acadie, Burkina Faso, and Les Iles Maurices.
"Of course, so many of L'Alliance members are Bermudian Francophiles who love to join in for an evening of pétanque, wine tasting and to enjoy our monthly Café Français and French cinema evenings in partnership with BUEI.
"L'Alliance welcomes all, French, Francophones and Francophiles to become members. Visit our new website for membership and our activities and sponsorship programs. Family membership is $50, individual membrship is $30. Contact alliancefrancaisebda@gmail.com for more information."
Tickets for the showing of 'Demain' cost $15 for BUEI/AF members and students, and $20 for non-members. For tickets and information, call 294-0204.

Read More About
Category: All, Entertainment, Films/Movies