On Saturday, October 1st, Tomorrow's Voices will host its 6th annual "Bounce for Autism" Fun Day at the Southampton Rangers Sports Club, from 2pm to 8pm.
Tomorrow's Voices said they would like to invite the community to bring their entire family out for a day of fun-filled activities, including 15 fun castles, water slides, Xtreme Games Zorb Racing, dance competitions, toy stalls, food & snack stalls and face painting and tattoos, and all-day entertainment.
"This year the event will be bigger and more bouncier than ever with special guests 'The Skyriders', the international High-Flying Trampoline Team who have wowed audiences at NBA half-time shows across the US. The Skyriders are sure to keep the crowd on the edge of their seats as they perform entertaining and death-defying stunts as they perform in three shows throughout the day," a spokesperson said.
"Entertainment will also include DanceSations, Jump 2b Fit/Bermy Bouncers and Bermuda Gymnastics. There will be children's dance competitions and a bouncy ball competition with exciting prizes up for grabs including our exciting Bouncy Balls. Tomorrow's Voices information booth will be set up throughout the day, all in the name of raising Autism Awareness and support in Bermuda.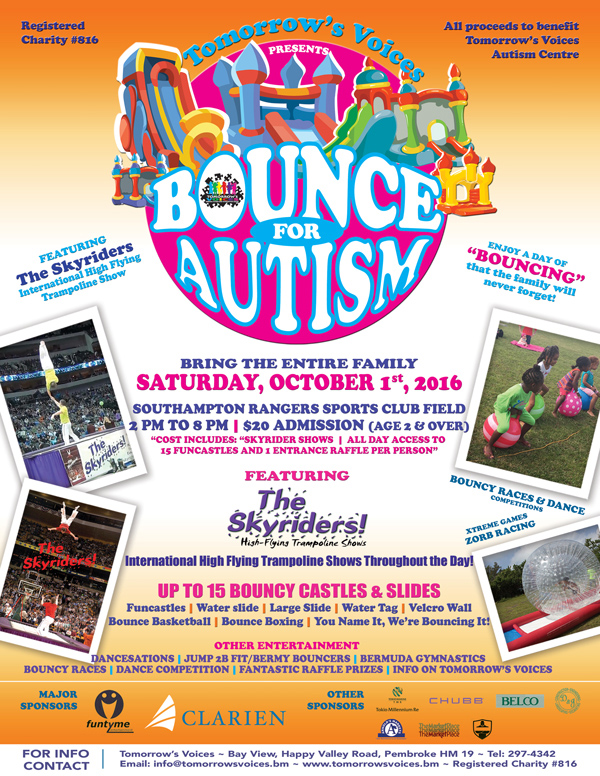 "Admission is $20 for adults and children ages 2 and over, which includes three Skyrider Trampoline shows throughout the day, all-day fun castle access and one  entrance raffle per person, with prizes including an Apple iPad Air, Treats Gift Certificates and much more. All proceeds benefit the Tomorrow's Voices Autism Centre and the families it supports.
"The day was designed to help Tomorrow's Voices raise awareness of Autism while celebrating those young people and adults who live successfully with the disorders every day.
"The event helps to raise funds for Tomorrow's Voices' much-needed Centre and services, as well as broaden awareness of the autism spectrum and other developmental challenges that are increasingly affecting families in Bermuda.
"For the sixth year in a row, major sponsors Funtyme Entertainment, who has generously donated all of their bouncy castles in support of Bounce for Autism, and Clarien Bank Limited.
"Supporting sponsors of the event also include Tokio Millennium, CHUBB, BELCO, D&J Construction, Swizzle Inn, Arnold's Warehouse, The Market Place, Digicel, Hunts Food & Supply, Treats, Miles Market, Audio Visual Electronics, KJ&K Security, Hot Dog Delight, Affordable Party Rentals, Play Games Entertainment and Miles Market."
Anyone interested in further information about Tomorrow's Voices should contact Thea Furbert at 297-4342 or email info@tomorrowsvoices.bm.
Read More About
Category: All, Entertainment