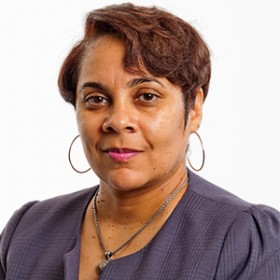 The Ministry of Health and Seniors announces the appointment of Mrs. Laquita Burrows[pictured] to the post of Director of the Health Insurance Department [HID], effective 1 October, 2016.
Mrs. Burrows will replace Mr. Calvin White, who served as Acting Director for the past two years.
Minister of Health and Seniors Jeanne Atherden said, "I am happy to have a seasoned Bermudian take the reins from Mr. White."
Mrs. Burrows earned a BSc. in Business Management, and is an Associate in Risk Management [ARM], and Chartered Insurance Operations Professional [CIOP].
She has over 25 years of international business insurance/reinsurance experience focused on underwriting, operations and project management.
Her recent responsibilities have included managing an underwriting operations department to ensure that best practices were developed and implemented across all underwriting departments.
Mrs. Burrows said "I look forward to working with the team at HID to continue to provide quality health insurance products in an affordable, efficient and collaborative manner, thereby upholding the vision of HID to be the affordable health insurance benefit provider to Bermuda."
The Health Insurance Department operates and manages the Bermuda Health Insurance Plan, the Future Care Plan, the Mutual Reinsurance Plan, and the Government Subsidy program. It provides health and dental benefits to Bermuda residents.

Read More About
Category: All