Digicel have unveiled the latest addition to their range of products with their music streaming and downloading app, d'Music, which contains a catalogue of over 20 million songs from international artists across all genres.
d'Music is available to Digicel customers, including those in Bermuda, on a Prepaid or Postpaid data plan and comes with 1GB of free data to stream and download songs without it taking from their main data allowance.
"We are always listening to our customers and bringing them services that they value. d'Music is a great example where we were asked for not just music streaming but the ability to download and listen off-line, and to keep it really affordable. That's why we made it free for some plans and included 1GB of data or about 32 hours of free streaming," explained Julian Burton, Commercial Director at Digicel.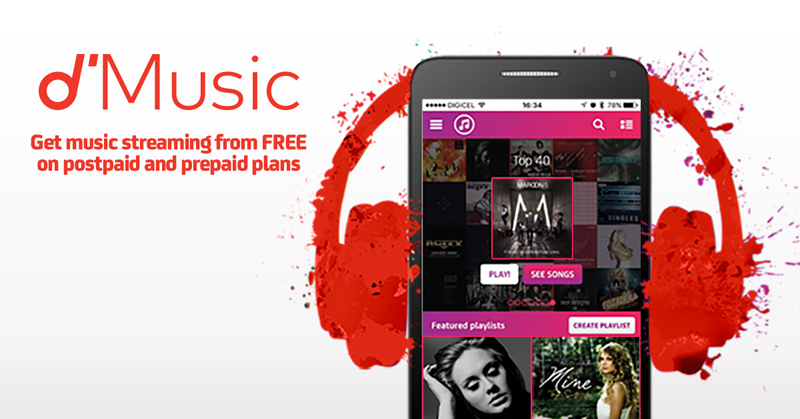 "d'Music provides another reason to choose Digicel along with our Data Test Drive on Postpaid which gives people the opportunity to find the data plan that's right for them with three months of unlimited data.
"Prepaid customers benefit from free Pokemon Go until the end of October. For Postpaid and Prepaid we extended our Roaming Pass low rates to 30 and 20 countries respectively this year with no increase in the activation fee and we have a Price Promise that means customers will 'never pay more for a phone' at Digicel."
d'Music is free on Postpaid Premier, Select and Standard plans and costs $4.99 a month on the Core and Basic plans. All other Digicel Postpaid customers can get it for $9.99 a month.
Prepaid customers can get free d'Music with a Freedom 99 plan and a daily $3.50 Talk, Text & Web plan. Freedom 75 and Freedom 50 customers can get access for $4.99. All other Prepaid customers can subscribe to a 30 day d'Music plan for $9.99.
Existing customers can get d'Music for the same great prices. For Prepaid, just use the My Digicel App [or dial *100#] to choose a data plan and then the d"Music plan. For Postpaid, visit the Digicel store or call to 500-5000 to get set up.
The d'Music app is available from iTunes or Google Play and accessed with a Digicel ID. Full details are available on www.digicelbermuda.com.

Read More About
Category: All, Entertainment, Music, technology