During the Gombey Festival on Saturday, Tyrone "Funk" Nesbitt will be recognized as this year's honouree for his life's contribution to the Gombey tradition.
His bio from the Department of Community and Cultural Affairs says, "Tyrone Alexander "Funk" Nesbitt was born on September 16, 1949. After years of following Place's Gombeys with his friend Leon Place, they were allowed to join and became the youngest members of the troupe at age 10. He performed once with Merry Mice's Gombeys but continued with Place's Gombeys until he decided to retire.
"His retirement only lasted about two years, before the Gombey beat drew him back and compelled him to create his own group in the 1990s, H&N Gombeys, which stood for Hendrickson and Nesbitt Gombeys. That group is now known as H&H Gombeys. Today, Funk occasionally performs with and assists Warner's Gombeys. Well-known and loved throughout the Gombey and broader Bermudian community, he is sometimes introduced to children as "The Gombey Man".
"While dancing with Place's Gombeys, Funk was inspired by Carnival Gombey leader John "Pickles" Spence to play the side snare drum and continues to play it when called upon to perform today. If there are enough drummers, Funk enjoys dancing. His favourite dance to perform is the cock fight. He believes that by learning to play the Gombey beat and dance to it, he better appreciates the fullness of the experience. His Gombey performances have taken him around the world, including extensive travel throughout the Caribbean and the United States.
"A gifted artist who paints abstracts, Funk made his first Gombey costume in the early 1960s. At the time, women tended to make the costumes for the men, but they were too busy that season. He bought a sewing machine and had a friend teach him how to embroider. After making the initial costume, Funk continued crafting full Gombey costumes with masks and is still widely revered for his unique designs.
"Funk's costumes feature masterful embroidery depicting the nature and heritage of Bermuda, as well as African symbols. His capes uniquely use wool instead of embroidery thread, which he says allows him to better match the rest of the costume's embellishments. The masks that he creates tend to have a fish-scale pattern throughout, while his hats feature flags, animals, and African imagery.
"He believes that it is important for costumes to contain symbolism and meaning, showing a true pride in and love for Bermuda's heritage. Costumes are a labour of love and it can take a steady year of work on-and-off to complete one to his high standards, where all embellishments are stitched on, including the gems.
"A master carpenter, he makes bows from spice trees and hatchets created in a traditional fashion using four separate pieces. These are decorated to match the costumes. Funk has also notably made a bass drum.
"When asked to share his hopes for Gombeys going forward, Funk smiled and sagely said, "All I can say is that if Gombeys stick to tradition, it will go further. Some people try to exploit the culture, but it is important for us to remember the roots of where it comes from and to be an ambassador to Bermuda when performing. It is about community."
The 2016 Gombey Festival will be held on Saturday September 10th at the W.E.R. Joell Tennis Stadium, with doors opening at 5.00pm.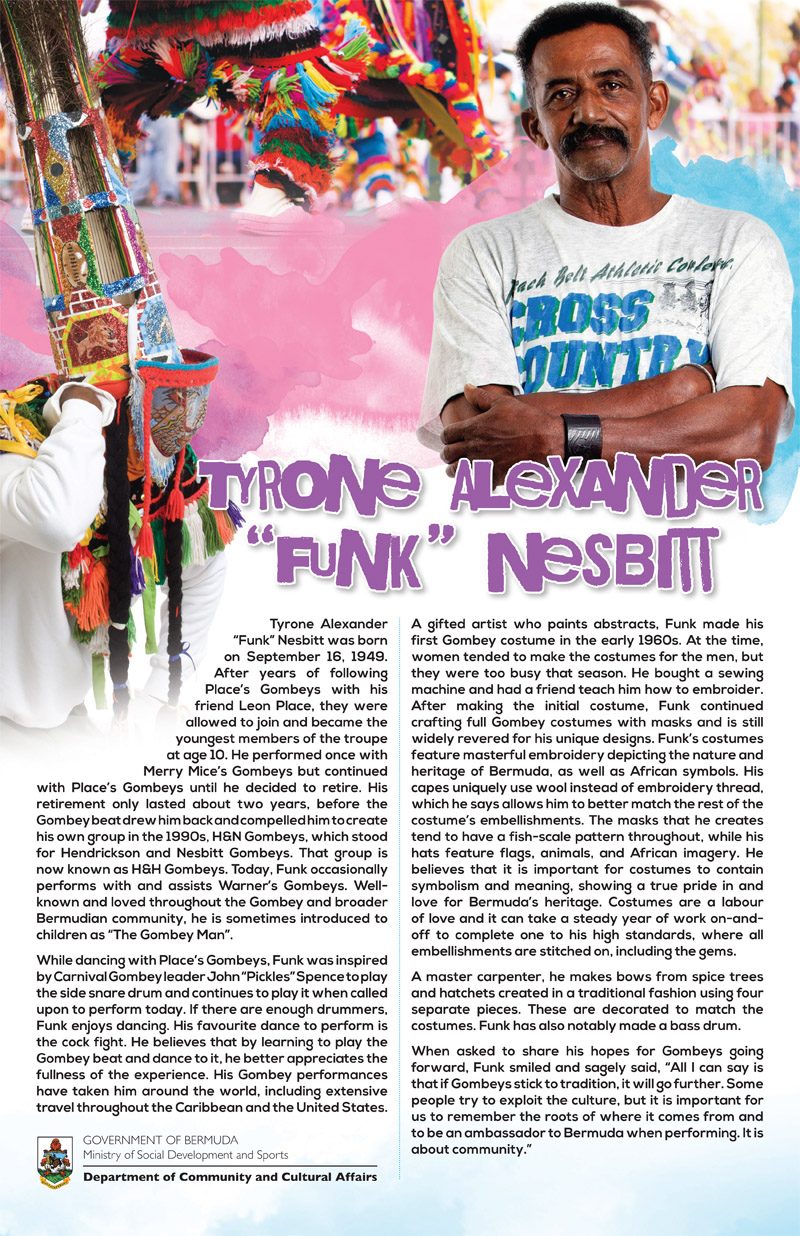 Read More About
Category: All, Entertainment, News