The Department of Community and Cultural Affairs is inviting the public to come out and enjoy the 2016 Gombey Festival on Saturday September 10th at the W.E.R. Joell Tennis Stadium.
"The Minister of Social Development and Sports Sylvan Richards said, "I want to encourage the public to come out and enjoy this dazzling, energetic, cultural display.
"To have so many of the troupes gather together in celebration of our proud heritage is an opportunity not to be missed; with all the intricate costumes that have been created for each troupe, it will be a visual kaleidoscope of colors."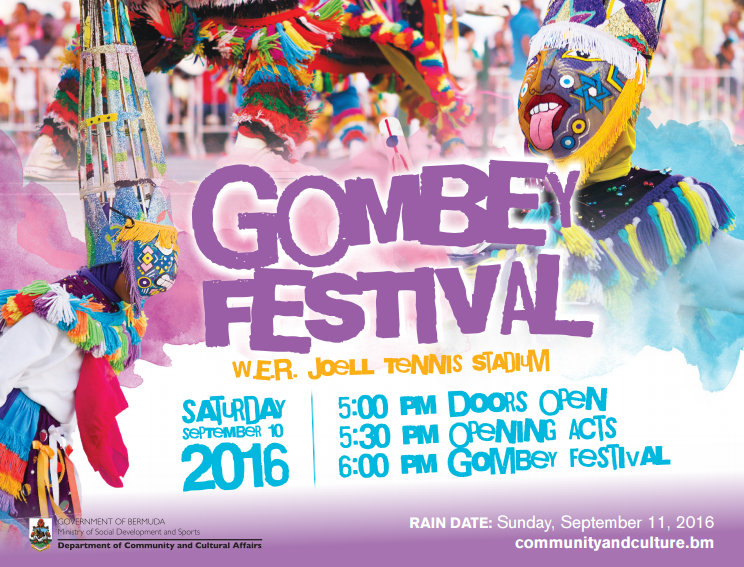 "The Gombey Festival is held annually to provide continued exposure to the folk art traditions of this important cultural heritage," a spokesperson said.
"The Gombey is an iconic symbol of Bermuda, reflecting the island's blend of African, indigenous peoples, Caribbean and British cultures, incorporating them over time into a unique performance art, full of colourful and intricate masquerade, dance and drumming.
"The traditions have been passed down orally from one generation to the next within families and the Captains of each troupe determine the direction of the troupe and style that is taught.
"Thus within troupes there can be found subtle but distinct differences in beats, dances, costumes, headdresses, by which they can each be recognised. Freedom dance, junkanoo, cockfights, biblical stories, slow dance, fast dance, snake dance, and rushing back are all elements to watch for when observing a Gombey performance.
"Doors open at 5pm, and the Gombey Festival will begin at 6pm. The finale will take place at approximately 8:30pm and will feature the peewee gombeys from each troupe doing a performance of three minutes each.
"Also during the Gombey Festival, Tyrone "Funk" Nesbitt will be recognized as this year's honouree for his life's contribution to the tradition of Gombey dancing. Mr. Nesbitt joined Place's Gombeys at the age of 10, along with his friend Leon Place, and the two of them became the youngest members of the troupe.
Place's Gombeys at last year's Gombey Festival
"He continued with Place's Gombeys until his retirement. However, two years later, the Gombey beat drew him back and compelled him to create his own group in the 1990s, H&N Gombeys, which stood for Hendrickson and Nesbitt Gombeys. That group is now known as H&H Gombeys.
"While dancing with Place's Gombeys, Mr. Nesbitt was inspired by Carnival Gombey leader John "Pickles" Spence to play the side snare drum and continues to play it when called upon to perform today. His Gombey performances have taken him around the world, including extensive travel throughout the Caribbean and the United States.
"A gifted artist, Mr. Nesbitt made his first Gombey costume in the early 1960s. His costumes feature masterful embroidery depicting the nature and heritage of Bermuda, as well as African symbols. The masks that he creates tend to have a fish-scale pattern throughout, while his hats feature flags, animals, and African imagery.
"He believes that it is important for costumes to contain symbolism and meaning, showing a true pride in and love for Bermuda's heritage. Costumes are a labour of love and it can take a steady year of work on-and-off to complete one to his high standards, where all embellishments are stitched on, including the gems.
"Today, he occasionally performs with and assists Warner's Gombeys. Well-known and loved throughout the Gombey and broader Bermudian community, he is sometimes introduced to children as "The Gombey Man".

Read More About
Category: All, Entertainment, News