The Lamb Foggo Urgent Care Centre [UCC] will close for two weeks this fall in order for maintenance work to take place, the Bermuda Hospitals Board [BHB] said today.
The BHB said, "BHB's strategy seeks to improve quality of care, strengthen partnerships and support a healthy community. As part of this strategy, BHB will close the UCC for two weeks later this Fall to undertake maintenance work at in order to sustain the facility for urgent care, as a disaster hub in the event of an East End crisis such as a crash at the airport, and as an available medical facility for St David's and St George's residents when the causeway is closed."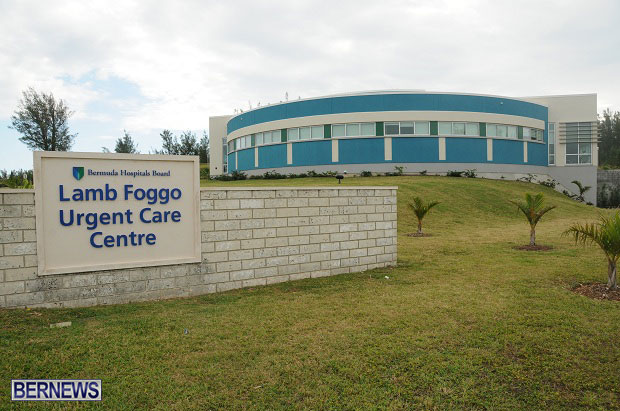 Dr Edward Schultz, Chief of Emergency and Hyperbaric Medicine notes: "The need for the UCC has never been greater to manage the increasingly sick and senior population in Bermuda. Over the last five years, numbers at both the UCC and Emergency Department have trended slightly down [7.7%] from 39,564 to 36,518.
"Very likely, this relates to the decrease in local population numbers. However, the complexity we see in the Emergency Department is increasing. This relates to our ageing population, as our seniors can have multiple issues and medications, and the rising incidence of chronic diseases, such as diabetes.
"Diabetes can cause or complicate a patient's medical condition and increase the likelihood of hospitalisation. At any time about 40% of people in hospital have diabetes. In Emergency, this complexity means each patient takes longer to triage, test, diagnose and treat and the numbers of admissions from Emergency into hospital is much higher.
"This has led to KEMH often working at capacity, and people are left waiting for an inpatient bed in Emergency. This, in turn, reduces the clinical space for incoming Emergency patients, who then also wait for longer.
"The need for the UCC has never been higher to relieve the pressure in the hospital Emergency department, and enable people who have urgent care needs in evenings and weekends to be seen relatively quickly."
Mr Scott Pearman, Chief Operating Officer for KEMH and the UCC, adds, "The UCC facility is now seven years old and requires maintenance to refresh systems and prepare the facility for the projected influx of visitors due to the Americas Cup events scheduled in 2017.
"The maintenance work is planned for later in the fall when it will temporarily close for a couple of weeks so that the floor can be replaced, repairs can be made to the air conditioning system, and a number of less visible maintenance issues can be addressed. Numbers at the UCC tend to dip slightly towards late fall and the risks of hurricanes decline in October and November.
"We do not have a set date yet, as we will monitor storm activity and usage, but wanted to ensure people know about our plans. The UCC is strategically important to the island, and we will use a public process to identify potential partners that are interested in collaborating with the BHB to make use of the facility at times when the urgent care service is not in operation."
The BHB provided the stats below regarding Emergency Department & UCC usage [PDF here]:

Read More About