Registration for the Bermuda Dive In Festival – an initiative promoting diversity and inclusion in insurance that runs from September 27 to 29 in Bermuda — is now open.
The Bermuda insurance community joins Lloyd's and cities around the world as Dive In goes global following its success in London last year.
More than 45 events will take place over three days in 15 cities around the world, making Dive In the only international, sector-wide, concurrent diversity and inclusion event of its kind anywhere in the world.
All events are open to everyone who works in the insurance and reinsurance industries to attend free of charge.
A mobile app for iPhone and Android devices – available at www.diveinfestival.com – has been designed to facilitate easy event sign-up and is packed with relevant content. Registrants should designate 'Hamilton, Bermuda' as the location, and then select the events they are interested in.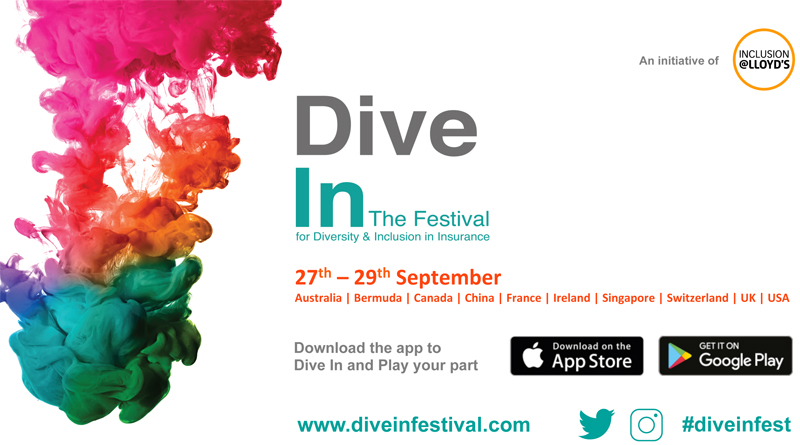 A series of unique, engaging sessions will be hosted by Aon, EY, Hamilton Re, Marsh and XL Catlin, founding firms launching Dive In Bermuda. The Bermuda events set to take place over the festival's three days will include:
Un-biasing our Unconscious Bias, a facilitated discovery session with Tiffany Paynter, Art of Hosting facilitator, and Charlotte Valeur, Board Apprentice Founder and Chair
What Executives Need to Know About Women and Gender Strategies, led by gender and generations strategist Christie Hunter-Arscott
A Taste for Life wine tasting event during which local actors will bring to life playwright Catherine Hay's works depicting LGBT experiences within the workplace
Mindfulness: A Style of Being, a mindfulness meditation experience and practices to incorporate into your lifestyle, led by Solstice coach Steve O'Reilly
Hidden Disabilities: Neuro-Diversity and Working with ADD, ADHD, Asperger's, presented by Tracy Powell-Rudy from Asperger Syndrome Training & Employment
Navigating The Multi-generational Workplace, an interactive workshop and discussion exploring the lens through which different generations operate, facilitated by Jenny Smatt of Ontru with a multi-generational panel of industry professionals
Premier Michael Dunkley said,"I am pleased to support this wonderful event, which emphasizes the importance of diversity and inclusion in the international business environment. The Festival's principles of tolerance, respect and acceptance are Bermuda's principles.
"This Government recognizes the importance of the financial services sector and its related industries to Bermuda and its economy. But we also must encourage more individuals to get involved in a sector that is a critical engine driver of our economy – individuals who can bring a diverse perspective to the industry.
"By supporting the best practices being advocated by the Dive In Festival, I am hopeful that we will attract some of the best and brightest people into this vibrant area of our workforce."
Kathleen Reardon, Bermuda Dive In Executive Lead and Hamilton Re CEO, added: "We are very pleased that Dive In has received the endorsement of Premier Dunkley and other dignitaries, and that the event has been so positively embraced by the Bermuda insurance and reinsurance community.
"With registration now open, we look forward to three productive days of engaging activity and thoughtful discussions that will promote awareness of the value of inclusion and diversity."
Read More About