[Updated] As of noon today [Oct 18], 33 customers remain without power, down from 140 this time yesterday, and down from a peak of 27,431 customers who lost power due to Hurricane Nicole on Thursday.
"Crews worked late into the night, and we are targeting to complete today," BELCO said. "Crews are moving throughout the Island today working on a number of small pockets and individual outages.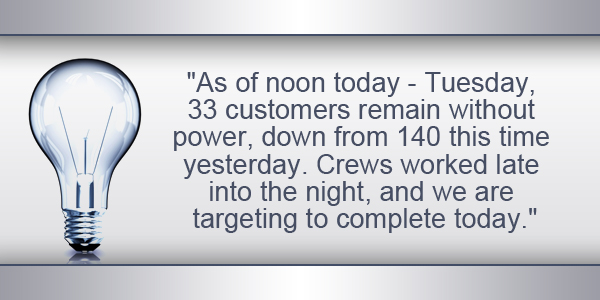 "As power is restored throughout the Island, please take precautions when bringing your appliances and sensitive equipment back on-line. BELCO strongly recommends using surge protection equipment, particularly following a storm such as a hurricane that has weakened the stability of the system.
"Be aware that the system has been stressed and as a result, abnormalities such as surges are more likely to occur than normal, so we advise using surge protection and/or unplugging sensitive equipment when not in use.
"We would like to thank our customers for their ongoing patience and remain committed to getting everyone on."
Update 4.56pm: BELCO said, "As of 4:45pm today – Tuesday, 17 customers remain without power, down from 44 this morning. Crews will work tonight to continue restoration efforts and it is our intent to try to get everyone back on tonight.
"Some of the small and individual jobs have required extensive work taking several hours. Should this slow down progress tonight, anyone who does not restored tonight will be priority in the morning. "
Update Wed, Oct 19, 7.55am: BELCO: Crews worked late last night and all customers have had power restored.

Read More About