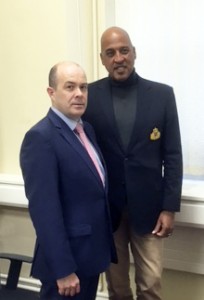 While on a private visit to Ireland, Minister of the Environment Cole Simons, met with Irish Minister for Communications, Climate Action and Environment, Denis Naughten at Dáil Éireann, the Irish Parliament, in Dublin. Minister Simons officially invited Ireland to become a signatory to the Hamilton Declaration.
Minister Simons said, "Minister Naughten was keenly interested in the Hamilton Declaration and the conservation of the Sargasso Sea.
"He said he would bring the letter of invitation and our comments to the attention of Minister Michael Creed, Minister of Agriculture, Food and the Marine. Minister Creed would need to present the invitation to the Minister of Foreign Affairs as it is a foreign treaty."
This invitation to Ireland comes on the heels of a meeting with Zac Goldsmith, UK MP, who made the keynote speech about marine issues at the recent Conservative Party Conference in Birmingham, England.
Goldsmith praised the manifesto commitment to create "Blue Belts" around the UK Overseas Territories. He said this was the "biggest conservation commitment by any government ever."
Mr. Goldsmith acknowledged Bermuda's satellite study aimed at identifying any illegal fishing in Bermuda's EEZ.
Minister Simons said, "Mr. Goldsmith recognised Bermuda as being ahead of the curve. It is gratifying to have Bermuda singled out for its leadership role in the realm of marine conservation."

Read More About
Category: All, Environment