Bermudian Genelle John's business is now available at both ends of the Island after she jumped at a chance of opening a new shop at The Royal Naval Dockyard.
Ms John opened Salt Spray Soap in St. George's in October last year, selling natural products including artisan soap, whipped body butter, emulsified salt scrub and lip balm, but has now expanded into the Clocktower Mall.
"I love St. George's. It's a fun community. I felt quite content right up until the second I heard that there was the perfect spot located in the Clocktower Mall.
"I jumped at the opportunity to also make the products available in the west in response to the locals who make the trek across the Island to the St. George's location," said Genelle.
She returned to Bermuda two years ago, after being overseas for university, and said she saw a different economy on the Island.
Genelle John with her daughter, India.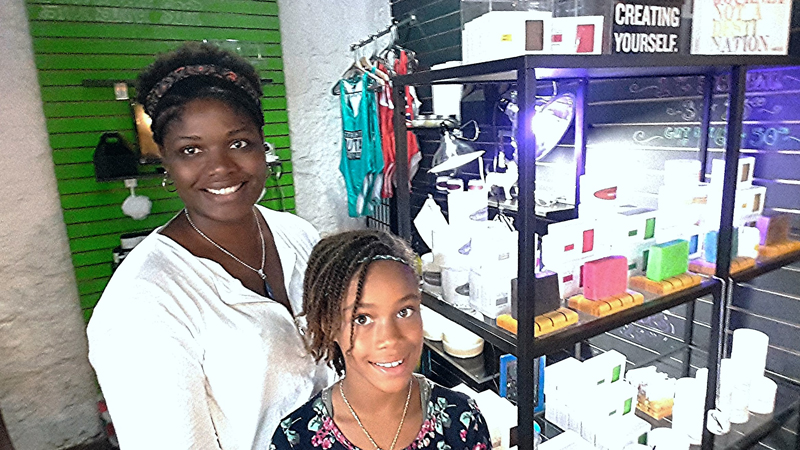 "I saw it as an opportunity to step outside my comfort zone by going into retail/wholesale. I do not tire of talking about head to toe natural products so this business has been a perfect fit for me."
Her stores sell artisan soap products which Ms John makes by hand using different combinations of shea butter, mango butter, extra virgin olive oil, coconut oil, avocado oil and castor oil. Her lip balm features locally sourced beeswax.
"We hope to continue to grow our local customer base. I focus daily on sustainability so that we can be known as 'Bermuda's Skincare'. We have an America's Cup branded soap coming very soon as well as one or two brand new products with fun, seasonal gift packing to close out 2016," she said.
Joanna Cranfield, WEDCo's Business Development Manager, said it was good to see a Bermudian run and owned business expanding and taking over space in the West End.
She added: "Ms John's products are a perfect fit for the Clocktower Mall and I am sure they will be popular with our visitors who are always looking for something Bermudian made. We wish her every success and look forward to seeing her business grow."
Read More About