Hurricane Nicole — which is a Category 2 storm as of this writing — is heading toward Bermuda, and the island is in full preparation mode.
The 3.00pm forecast from the National Hurricane Center says that Hurricane Nicole has maximum sustained winds near 100 mph [155 km/h] and the Bermuda Weather Service says Nicole's closest approach to Bermuda will be within 25nm [or directly over us] at 1.00pm tomorrow.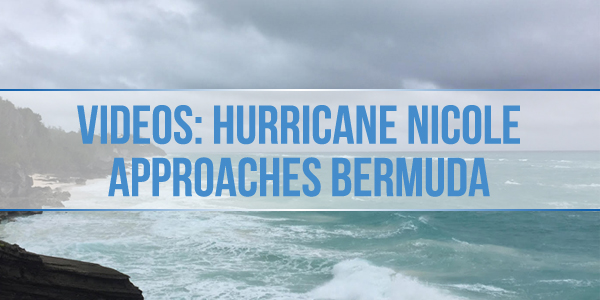 The BWS says that tropical storm force winds will arrive later this evening and hurricane force winds will start toward dawn on Thursday, lasting into the evening.
You can see footage of the weather conditions as Nicole approaches below, follow our Periscope and Facebook pages for live video feeds, and for our ongoing live updates on Hurricane Nicole click here.
Weather Conditions at 6.00pm on October 12
Weather Conditions at 1.00pm on October 12
Weather Conditions at 12.00pm on October 12
Weather Conditions at 7.30am on October 12
Weather Conditions at 8.30pm on October 11
Weather Conditions at 6.30pm on October 11
Weather Conditions at 3.00pm on October 11
2 hour live stream replay, Hurricane Nicole approaches on October 12

Read More About