BTC is offering a new "Always On" service promise for residential customers using its Complete Home Internet services, in which the company promises to reimburse a full month service fee if a customer loses internet service for a day due to a BTC issue.
BTC CEO Robin Seale says, "We have invested significantly in the BTC network over the last year and are pleased to see this resulting in a better service for our customers.
"We think we have the most robust network in Bermuda and are now 'putting our money where our mouth is' with a clear, upfront promise for the rare occasions we might let a customer down."
"Complete Home Internet from BTC includes their bundle Access and Internet plans with speeds of up to 4Mbps to 25Mbps. All these bundle plans include a discount compared to taking one service standalone with savings of $108 to $468 per year quoted on the BTC website, www.btc.bm," the company said.
"To complement dependable Complete Home Internet services, the BTC store offers a range of high grade routers, Wi-Fi extenders and plug extenders [devices that can turn the home electric circuit into a data network] – all at affordable prices."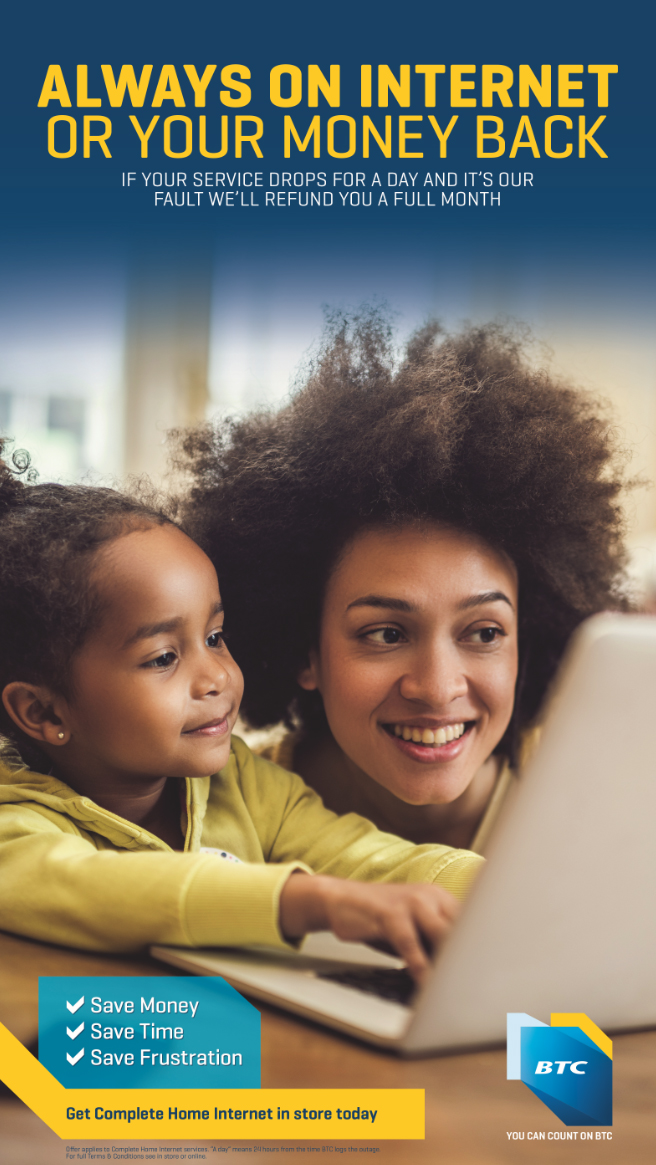 "We can make this Always On offer for our bundled service because we control the entire service." added Julian Burton, BTC Commercial Director.
"This provides another layer of peace of mind to our customers, along with the monthly savings of Complete Home Internet and the convenience of a single place to call if there is any query."
"Many people struggle with signal through thick Bermuda stone walls and often think it is the internet service. These affordable products talk to each other throughout the home, making it possible to carry a strong signal in every room," explained BTC Retail Supervisor, Bernell Gibson.
The BTC store, on the corner of Cedar Avenue and Victoria Street, is open 8:30am to 4:45pm Monday to Friday. The Bermuda-based BTC Customer Care hours are 8:00am to 8:00pm Monday to Friday and 8:00am to 5:00pm Saturday.

Read More About
Category: All, Business, News, technology