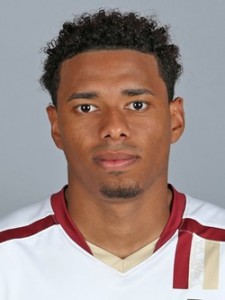 Bermuda's Zeiko Lewis — who plays for Boston College — continues to impress, scoring twice in a recent match that saw his team advance to the ACC quarterfinals.
The match report said, "Zeiko Lewis scores twice as Boston College advance on kicks from the penalty mark.
"Senior Lewis scored both of Boston College's goals in the second half, senior Isaac Normesinu and sophomore Simon Enstrom were credited with assists on the strikes, while sophomore Cedric Saladin made six saves, including four in the second half.
"Lewis scored his second goal in the 86th minute to tie the game 2-2. It came just 1:18 after Virginia Tech went ahead, 2-1.
"Virginia Tech struck first in the 44th minute with just 1:30 left in the first half. Alessandro Mion took a shot right in front of Saladin who made the save. The ball bounced right back to him and he headed it in for the 1-0 halftime lead.
"Boston College got its first equalizer in the 56th minute when Normesinu went on a break from the defensive end. He sent a nice through ball to Lewis who finished it to tie the match.
"Mion struck again in the 85th minute with Daniel Damiani and Juan Pablo Saavedra assisted on his second goal of the match.
"A minute later, Enstrom handled the ball on the right baseline. He found Lewis who was open in the box and he found the left side netting to tie it again.
Penalty Kick Results 
BC: Tomas Gudmundsson – Made
VT: Marcelo Acuna – Made
BC: Joshua Forbes – Made
VT: Alessandro Mion – Made
BC: Trevor Davock – Saved
VT: Morten Lamps – Saved
BC: Zeiko Lewis – Made
VT: Forrest White – Made
BC: Younes Boudadi – Made
VT – Rory Slevin – Missed [cross bar]

Read More About