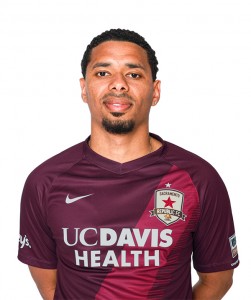 Bermuda's Zeiko Lewis scored for his Sacramento Republic team as they played to a 6-0 win over Portland Timbers.
The club's match report said, "A six-score onslaught in the first half propelled Republic FC to a dominating second round victory in the 107th Lamar Hunt U.S. Open Cup at Heart Health Park. The result matched the largest margin of victory for the club last achieved in 2019.
"The Indomitable Club picked apart the visitors from start to finish. Sacramento held on to 70% possession for the entire match, completed nearly 90% of its passing attempts, and took advantage of every inch of space in the middle of the pitch. Mark Briggs' Men finished the night with 27 shots, their highest total of the season.
"Zeiko Lewis nearly opened the scoring on two occasions, but a shot in the 10th minute went over the bar, and another off a Duke Lacroix cross moments later went just wide. Just moments later, however, Republic FC would put in their first when Duke Lacroix netted his first of two on the night, finishing a cross served by Ferrety Sousa on the right flank. Sousa finished with two assists on the night, assisting Damia Viader in his club debut ten minutes later with another well placed cross. Lacroix's two scores went down as his second career brace.
"Excellent goalkeeping by Portland's Quinn McCallion kept things within reach for the visitors' mid-way through the first half. A rocket from Rodrigo Lopez in the 20th minute appeared destined to find its way inside the left post, but a diving save from McCallion kept the ball out.
"Lopez eventually found his way onto the score sheet in the 26th minute, serving in a corner that was headed in by Matt LaGrassa. Just five minutes later, Lopez extended his club's lead to four, burying a shot from just outside the penalty box after finding himself wide open.
"Sacramento's second half effort would take off some of the pressure, but Republic FC would continue manufacturing chances to score. Zeiko Lewis recorded his first 90-minute effort of the season, tallying seven shots. Rafa Jauregui created two scoring chances in his season debut after entering for Rodrigo Lopez, and academy product JP Cortez was excellent applying pressure up top."

Read More About