[Updated] People made their way to the House of Assembly this afternoon [Nov 29], with the gathering appearing to be related to the airport development.
The PLP was scheduled to hold a press conference at 3.00pm about the airport development, however that was postponed for reasons which are not clear at this time.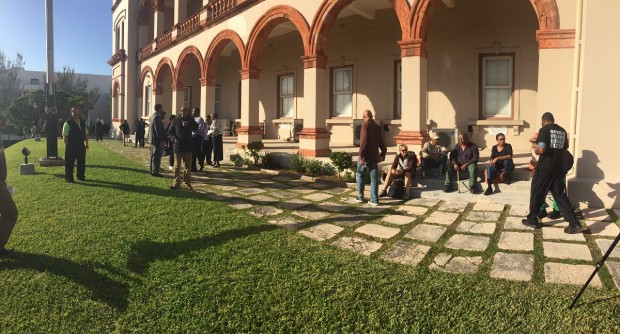 Earlier today, the PLP sent out an email to members saying, "Tomorrow, Minister Bob Richards and the One Bermuda Alliance are planning to privatise our airport to Canadian company Aecon for 30 years.
"This deal will see hundreds of millions of profit from our airport exported to Canada. We need your help to ensure that you MP knows exactly what they are voting for tomorrow."
"For months we have been asking for transparency on this deal, so Bermuda can be fully aware of its financial commitments," the email added. "If your OBA MP votes yes on this deal tomorrow, they will be voting for something they haven't seen."
LIVE on #Periscope: People gathering at the House of Assembly | #Bermuda | https://t.co/9GqvNC7UFd

— Bernews (@bernewsdotcom) November 29, 2016
The email then asked the recipient to contact their MP and ask them to "support the PLP's common sense plan to ask the Auditor General to review this deal."
Unofficial talk this afternoon suggested that people may be planning to return tomorrow.
Update 4.31pm: It seems there will be a change of plans tomorrow, as according to a tweet from Opposition Leader David Burt, tomorrow's sitting of the House of Assembly has been cancelled.
I have just left a meeting with the Speaker of the House. Tomorrow's sitting of the #Bermuda House of Assembly has been cancelled.

— David Burt, MP (@DavidBurtMP) November 29, 2016

Update 5.51pm:
According to the Premier, who responded on Twitter, it was to allow time for members to view the just released schedules.
@DavidBurtMP correct, to allow time for members to view the just released schedules!
Unfortunate you preempted the Speaker's announcement.

— Premier Dunkley (@BermudaPremier) November 29, 2016
Update 6.27pm: The Speaker of the House has confirmed as posted above, that the session tomorrow will be deferred, saying "Aecon and CCC have agreed to release the Schedules publicly," so the Speaker asked the Government to move the debate from to Friday so that Members can review the documents. The full statement from the House of Assembly can be read here.

Read More About