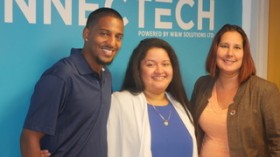 Connectech is welcoming creative design studio Red Bicycle to its facilities.
Red Bicycle, Bermuda's newest design studio, has moved into Connectech's co-working space, as it looks to expand its clientele locally and internationally.
Headed by husband and wife team Emma and Antwan Edwards, the startup was founded in 2015 shortly after the couple moved back to Bermuda after graduating from Florida's Full Sail university.
By then they had already wrapped up a series of projects and work experiences including an internship with the Earthrise Space Foundation Inc which was competing for the $30 million Google Lunar X prize to be awarded to the first private lunar rover mission.
Red Bicycle is a multi-disciplinary design studio specializing in branding, web and graphic design including 3D animation for the film and television industry. Its local and international clients span a range of industries including telecommunications, film, and transportation.
As with many design startups Red Bicycle was run out of the couple's Somerset home for its first year. The search for an alternative location was motivated in part by the need to create a separation between home and work and boost their productivity.
"Both of us loved this space as soon as we saw it," said Emma Edwards.
"It excites me to be alongside other businesses, even though they are in different industries. If you've taken the path to entrepreneurship you have passion about what you do. I also like the fact that there's coding camps here. It's like Bermuda's startup Google!"
Antwan cites easy access to local clients in the centrally located Hamilton offices, and access to other amenities such as meeting and training rooms as additional benefits.
Connectech founder Coral Wells said: "We're delighted that Red Bicycle has joined the Connectech community. We're building a collaborative community of diverse independent professionals and small business teams here at Connectech. Red Bicycle is a perfect fit."
Located on the 2nd floor of Cedar House at 41 Cedar Avenue, Connectech currently offers about 4500 sq ft of shared work spaces, meeting and training rooms, classes and events. It will add another 2,000 sq. ft. by early next year.
Read More About
Category: All, Business, technology