Connectech has welcomed Shawnette Somner to the Connectech community.
A well-known community activist, Ms Somner provides personal and professional development programs for children and adults.
Ms Somner has tutored hundreds of Bermudians in their homes as well as her own home and in several multi-purpose facilities around the island. So she decided to search for a central workspace to better manage her time and the logistics involved.
Ms Somner said: "As an experienced educator I have always been in demand for tutoring services especially after my home school closed. And so for the past few years I have been tutoring after work and on weekends in individual homes. I had to carry all my tutoring supplies with me in my car and my car was beginning to become a mobile office."
Connectech founder Coral Wells with Shawnette Somner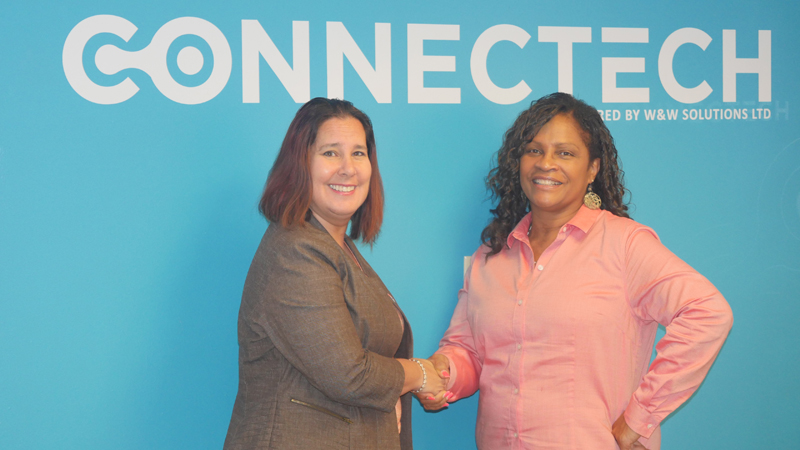 The search for an ideal space turned up a range of options, thanks to social media. But none fit her requirements: suitable for children, affordable and centrally located.
"Then one day I got a message from Connectech director Coral Wells telling me that she had space available at Connectech and that I should come look at it," Ms Somner said.
"At first I was skeptical for two reasons: I did not know Coral and I was terrified of city rent! But I went and checked it out, loved the space as soon as I saw it, and braced myself for the rent quote – which actually turned out to be quite reasonable."
Besides being nestled in a spacious "corner office" at the Cedar Avenue facility, Ms Somner has access to additional shared amenities such as high speed internet, a fully stocked coffee station and meeting and training rooms.
"Coral and I have developed a very good relationship and I admire what she is doing with Connectech and in particular her work with children and technology. The space is very clean, comfortable and quiet – and perfectly located just one block from the bus terminal."
Ms Somner's life's work is motivated by her desire to "Inspire others to aspire to greater things", she says.
"Once a person's self-esteem is enhanced, that person will become more of a risk taker in trying new things that will expand their potential – whether it be going for a job promotion, or trying out something they've been reluctant to try."
Among the range of services Ms Somner offers are: etiquette classes for girls, parenting classes, reading, writing and mathematics tutoring for both children and adults, GED classes for adults, personal development skills training for the workplace and a writing and editing service.
Connectech founder Coral Wells said: "We're delighted that Shawnette has joined the Connectech community. Besides our co-working spaces, we also offer technology classes for children and adults alike. Shawnette's personal and professional development service is a perfect fit."
Located on the 2nd floor of Cedar House at 41 Cedar Avenue, Connectech currently offers about 4500 sq ft of affordable shared work spaces, meeting and training rooms, classes and events. It will add another 2,000 sq. ft. by early next year.
Read More About
Category: All, Business, technology