Connectech has welcomed Advanced Services to the Connectech community.
Operated by husband and wife team George and Ritu Botelho, Advanced Services has been providing web development and hosting, graphic design and online marketing services since 2008.
Until last fall, the couple based their business out of a home office, But the arrival of a second child and the need to be centrally located motivated them to search for a new workspace.
Mr Botelho said: "Most of our clients are Hamilton-based and we wanted to offer a professional environment with board room, conferencing and other useful office features."
A little networking led them to Connectech's Cedar Avenue co-working spaces.
"The criteria were: a central location, value for money, and amenities.
Coral Wells, Connectech founder, George Botelho and Ritu Botelho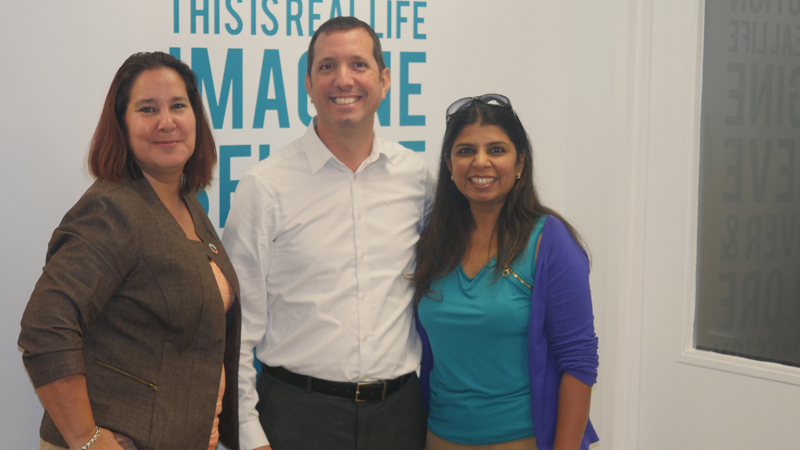 "Connectech was an easy choice. Our model is offering professional services at exceptional rates and exceeding our clients' expectations. The reason we wanted to work from our home is we didn't want to pass on that expense to our clients."
Mr. Botelho once worked as a full-time computer analyst in the private sector, freelancing on nights and weekends. Those freelance clients started asking him to develop websites and the idea of launching Advanced Services was born.
Armed with an MBA in Human Resources/recruitment and a Masters in Computer Management, the India born Mrs Botelho handles administration and client training, while he serves primarily as project manager. Two full time staff in India – a developer and a designer – round up the team.
Connectech founder Coral Wells said: "It's great that George has joined us here at Connectech. Advanced Services is a reputable firm and perfectly complements our small but growing community."
Located on the 2nd floor of Cedar House at 41 Cedar Avenue, Connectech currently offers about 4500 sq ft of shared work spaces, meeting and training rooms, classes and events. It will add another 2,000 sq. ft. this year.

Read More About
Category: All, Business, technology