Bermuda will crown a strongman champion this weekend in a competition of physical fitness, muscle and sheer brawn, as Find Your Grind is putting on the Bermuda Strong Man Competition and bills the new event as a spectator friendly experience the whole family will enjoy.
Competitors will face each other in unique physical challenges including a car pull, a 500-pound tire flip and a clean and press maneuver with a BELCO-donated telephone poll, which was a 'casualty' of Hurricane Nicole.
The event takes place Saturday, November 5th, from 11am until 4pm on the top level of Bull Head's Car Park. Admission is free thanks to the sponsorship of BGA, Argus and the Corporation of Hamilton.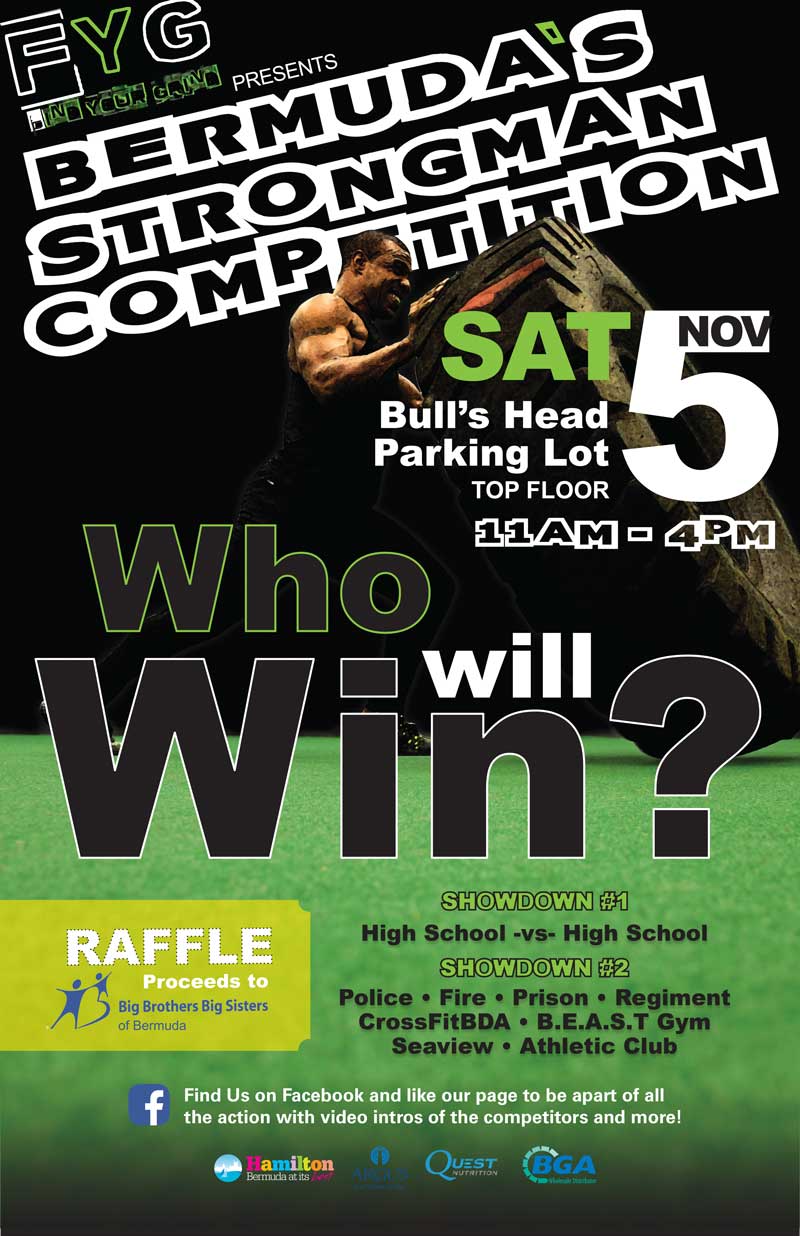 At least seven adult competitors from local gyms as well as officers from the Island's police, fire and corrections services will square off against each other for the main title.
Four of them are joined by teenage protégées who will also be competing against one another in a youth category. The younger competitors have spent the past two weeks training with their mentors to learn techniques, not only for the Strongman Competition, but for a sustainably fit and healthy lifestyle always.
"Our mission is to motivate everyone in our community to enhance their quality of life through fitness," said Find Your Grind Co-founder Kyle James. "This Strongman Competition and every event we associate with will instigate from our passion to promote personal well being for everyone."
In addition to the fitness activity, vendors will be on-hand including Bite.bm Food Truck, Grilling Stix, Hot Dog Delight, Ashley's Lemonade, Bermuda Grocery Box and Duch Pops. A fun castle is also available, and DJ Chubb will provide music.
Part proceeds from vendor sales will benefit Big Brothers & Big Sisters of Bermuda.
Raffle Sponsors are SportsCellar, Quest Nutrition, and ChatterBox Cafe; Event Sponsors are Auto Solutions, B.E.A.S.T. Gym, SAL, BELCO, LifeThyme CrossFit Sniggles, Precision Limited, BrandIt, Barritts, and Bermuda Rentals and organisers also extended their thanks to Krystal Patrice for Graphic Design and Branding.
Confirmed Competitors
Chez Harvey – Seaview Gym
David Lambert – Bermuda Fire & Rescue
Juan Looby – Correctional Service
Nashid Shakir – B.E.A.S.T. Gym
Kyle Santucci – The Athletic Club
Marc Tucker – CrossFit BDA
Kenton Trott – Bermuda Police Service
Tenneson Telemaque – Saltus Grammar, age 15
Nicholas Terra – Saltus Grammar, age 17
Marcus Bassett – Bermuda High School, age 17
Jarryd Simmons – Impact Mentor Academy, age 17
See the competitors' videos and more information on the event at the Find Your Grind Facebook Page.
Read More About