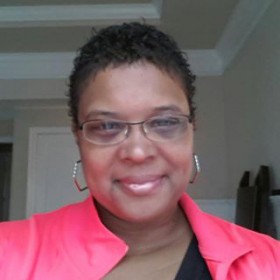 Local business owners and entrepreneurs will soon be invited to information sessions and will receive guidance from local business community groups and America's Cup Bermuda about how to maximize business opportunities during this year's America's Cup in May and June.
The ACBDA said, "A dedicated email address has been set up to field inquiries from interested businesses.
"It is expected that as businesses expand to meet the needs, this will also result in an increase local jobs, which will be advertised by the individual businesses on an as needed basis. The email address for local business interest is: localbizopps@acbda.bm.
"Local business owner and organizational development consultant, Denise Riviere [pictured] has been engaged by America's Cup Bermuda [ACBDA] to lead a dedicated working group for Local Business Opportunities.
"They will connect local businesses and service providers to meet the needs that will arise. Other local business advocates such as Bermuda Economic Development Corporation [BEDC] and Bermuda Chamber of Commerce are involved.
"A formal process will be established for local businesses that want to engage in the opportunities arising.
"Ms. Riviere, over the past 15 years, has helped local and international clients with initiatives such as strategic planning, team development, culture development, business process improvement and more."
"Ms. Riviere is no stranger to the world of sailing. Her work and love for youth development led her to the Bermuda Sloop Foundation in 2009 when she became a Board Member, and in seeing the positive impact the program had on Bermuda's youth, agreed to take on the position of CEO from 2011 – 2014. She was also an active ACBDA board member in 2015.
"As a member of the public service organization, Delta Theta Sorority, Ms. Riviere finds time in her busy schedule to do community service and tries to live by one of her favourite quotes: "Be the change you want to see in the world."
ACBDA CEO, Mike Winfield, says; "The experience Denise brings and her connection to the local business community will ensure that any local business with the capacity and willingness to engage this year with the economic benefits of America's Cup 2017, will do so. We welcome Denise for her understanding of what needs to be done and her passion and dedication to achieving it to a high quality standard."
Ms. Riviere said, "One of the key reasons we can look forward to America's Cup in Bermuda in 2017, is the economic benefit we'll notice in so many different ways. When small and medium sized local businesses do well, we all benefit with more jobs, more overtime hours, more spending, and more gratuities."
"I look forward to working with the community through existing business groups to ensure as many local businesses as possible are engaged. This is our big chance to get it right for some future benefit and by working together we can meet, and exceed the challenge."

Read More About