"The Opposition Leader's comments were unhelpful regarding enabling the Bermuda public to increase their calm, thoughtful understanding of this project," Finance Minister Bob Richards said, adding that "the individuals comprising the BRP are senior, respected and non-political Bermudian financial professionals."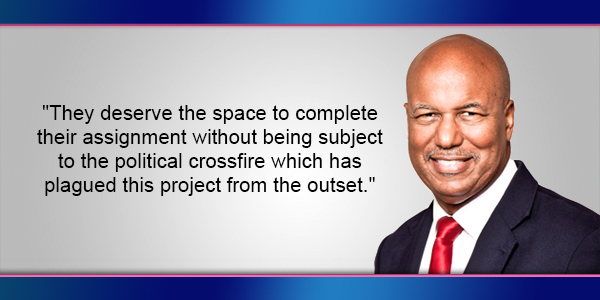 Yesterday, Opposition Leader and Shadow Minister of Finance David Burt said the "announcement by Minister Richards of a handpicked panel to provide what he described as an independent assessment shows contempt and disrespect to the people and their elected representatives."
"If the Government was truly interested in building consensus and trust, consultation with the Opposition regarding persons to sit on this panel would have taken place," Mr Burt added.
In response,the Minister of Finance stated that, "The Opposition Leader's comments were unhelpful regarding enabling the Bermuda public to increase their calm, thoughtful understanding of this project. Divisive rhetoric and name calling hinders this process.
"The individuals comprising the BRP are senior, respected and non-political Bermudian financial professionals with impeccable reputations.
"They deserve the space to complete their assignment without being subject to the political crossfire which has plagued this project from the outset.
"This is a good deal for Bermuda, with many benefits for Bermudians, and I am confident that this will be reflected in the findings of the Blue Ribbon Panel."
Live video replay of the Finance Minister announcing the Blue Ribbon panel earlier this week:

Read More About