Young Bermudian sailors Ahzai Smith and Christopher Raymond made an impressive showing at the 2017 Forward Sailing O'pen Cup in New Zealand, with both of them winning their divisions.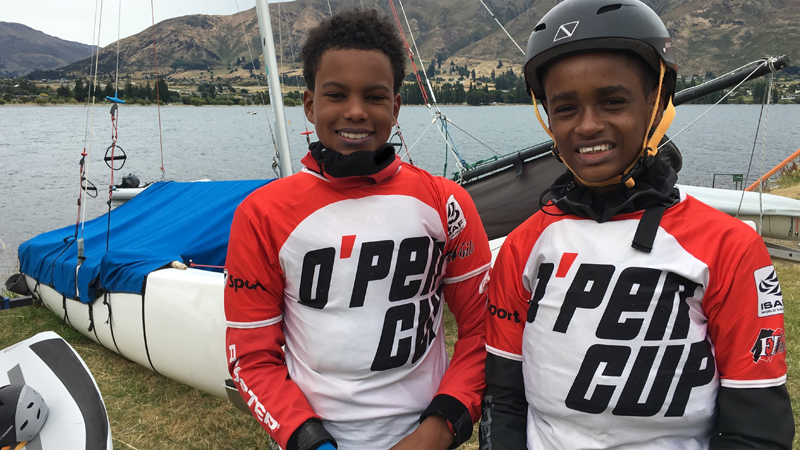 Minister of Social Development and Sports Sylvan Richards extended his congratulations to the pair. Ahzai won the Gold Fleet with 15 Net Points, while Christopher won the Silver Fleet with 12 Net Points.
"I am so proud of Ahzai and Christopher for their incredible efforts," said the Minister. "They are both only 12-years-old and it's not always easy to be away from home at that young age, but yet they have fully embraced the opportunity and, in doing so, have made us extremely proud.
"The competition is tough and they have proven, yet again, that Bermudians can compete on the world stage against the best of the best.
"I also want to thank the America's Cup and the America's Cup Endeavour Program for making this experience possible for Azhai and Christopher who will return to Bermuda with new skills, new experiences and memories that will last for a lifetime."
Ahzai and Christopher flew to New Zealand earlier this month with AC Endeavour Program Coordinator Leah Collis to compete in three regattas.
"Throughout the past 400 years, Bermuda has made numerous revolutionary contributions to sailing," said the Minister. "Therefore it should perhaps come as no surprise that two of our own would fare so well at an international competition.
" From sailing, to building the innovative Bermuda sloops, Bermuda's maritime heritage is an inextricable part of our identity and a great source of pride."
Both students participated in the 2015/2016 AC Endeavour program and were chosen to travel to New Zealand to compete in three O'pen BIC regattas because of their performances and attendance at the Bermuda Sailing Nationals. Christopher was top America's Cup Endeavour Program performer in the Green Fleet and Ahzai was top performer in the Championship Fleet.
The full Gold and Silver Fleet results follow below [PDF here]
The full Age Group results follow below [PDF here]

Read More About