The 2017 Forward Sailing O'pen Cup is underway in New Zealand, with two young Bermudian sailors making an excellent showing, with both Azhai Smith and Christopher Raymond leading their respective fleets.
Ahzai is the current leader in the Gold Fleet with 8 net points, while Christopher is the current leader in the Silver Fleet with 7 net points.
The sailors, both aged 12, flew to New Zealand earlier this month with AC Endeavour Program Coordinator Leah Collis to compete in three regattas.
Both students participated in the 2015/2016 AC Endeavour program. Based on student performance and attendance at the Bermuda Sailing Nationals, instructors from the East and West forts nominated the students.
Ahzai of Warwick Academy was the top performer at the Championship Fleet and Christopher of Mount Saint Agnes was the top AC Endeavour performer at the Green Fleet during Nationals.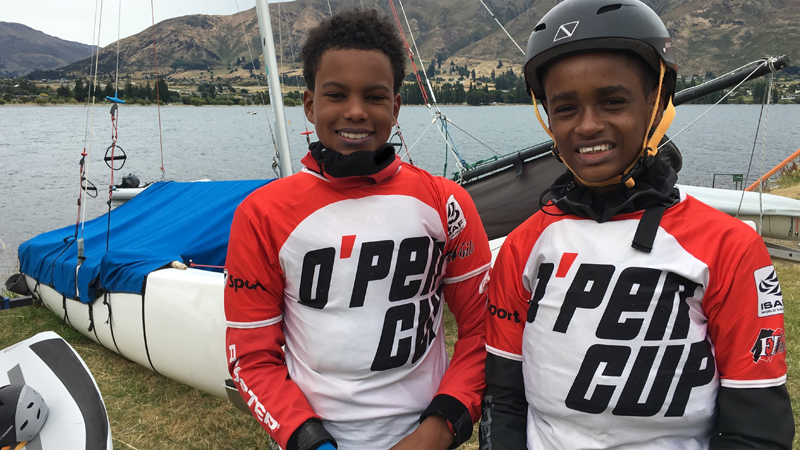 Tom Herbert-Evans, Community Sailing Manager, ACEA, previously said: "This is a once in a lifetime opportunity for these two young Bermudians and I really hope it inspires them and gives them a lifelong passion for sailing.
"They will return to Bermuda with new friends, improved sailing skills and a different look on the world."
Speaking on the opportunity, Ahzai said, "It's all a bit unreal! We flew a long way to get here, and that was an experience in itself, but to be here in New Zealand, competing against such good sailors, it's just amazing.
Christopher said, "I feel really lucky to be here and thank you to everyone who made this all happen. I've learnt so much so quickly, not just about sailing but about how great travel is and although I'm loving my trip to New Zealand, I can't wait to get home to Bermuda and put what I've learnt into practice."
The results from the first day of sailing are below [PDF here]:
Read More About