[Updated: El Salvador Defeat Bermuda 3 - 1 ]
Bermuda's U/20 football team is set to take on El Salvador today [Feb 22], as they continue taking part in the CONCACAF U20 Championships in Costa Rica.
This will be their second game of the Championships, after playing to a 1 – 1 draw against Trinidad & Tobago in their opener on Sunday, with Oneko Lowe scoring for Bermuda. After today's game, Bermuda will next take on the host Costa Rica on February 25th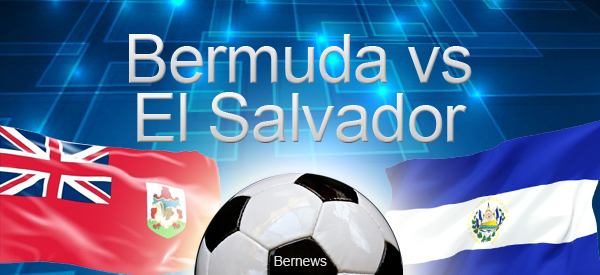 Bermuda's U20 Gombey Warriors include Jahquil Hill of Stafford Rangers FC, Ahria Simons of X'roads, David Jones of Iikeston, Nathan Rego of SBRC, Tahzeiko Harris of Somerset, Amar Lewis of Dandy Town, Oneko Lowe of Dandy Town, Liam Evans of Robin Hood, Tehvan Tyrell of Iikeston, Kacy Butterfield of Walsall FC, Osagi Bascome of Bristol City FC, Jahkari Furbert of BAA, Detre Bell of NVCC, Mazhye Burchall of PHC, Paul Douglas of BAA, Mikiel Thomas of DRC, Jahnazae Swan of Dandy Town, Jaz Ratteray Smith of Somerset, Zenawi Bowen of North Village, and Knory Scott of North Village.
The match preview, as posted by CONCACAF, is below:
Group C

-El Salvador v Bermuda, 5:30 p.m. ET
- All-Time CU20 series [2 games played] – Wins: SLV-2, BER-0; Draws: 0; Goals: SLV-5, BER-2
- Last CU20 Meeting: August 19, 1982 [at Mazatenango, Guatemala] – El Salvador 2, Bermuda 1

El Salvador

- 2017 CU20 Results: 1-0 win v Costa Rica [Roberto Dominguez 65']

- Appearances: 16 [1962, 1964, 1970, 1976, 1978, 1980, 1982, 1984, 1990, 1994, 1996, 2002, 2009, 2013, 2015, 2017]

- Best Finish: Champion-1 [1964]

- Record: 26W-15D-29L [102GF, 97GA]

- Qualification: 2nd Place, Central America

- Qualification Record: W-2; D-1; L-1; GF-9; GA-4

- Qualification Results: Honduras 2, El Salvador 1; Guatemala 2, El Salvador 2; El Salvador 4, Nicaragua 0; Panama 0, El Salvador 2

- Qualification Scorers: Roberto Dominguez [2]; Fernando Castro, Jose Enrique Contreras, Marvin Marquez, Brayan Paz, Kevin Reyes, Marco Rodriguez, Denilson Rosales [1]

- One of 5 teams to win the CONCACAF Under-20 Championship title … Mexico-13, Canada-2, Costa Rica-2, Honduras-2 are the others

- Four years ago, qualified to a FIFA U-20 World Cup for first time … captured third place at 2013 CONACACF Under-20 Championship, edging Cuba in the match for third place, 1-0, on Roberto Gonzalez's stoppage time goal.

- Defender Roberto Dominguez: appeared in 4 games as El Salvador finished third in last month's Copa Centroamericana and earned place in the 2017 CONCACAF Gold Cup … named 2017 Copa Centroamericana's best young player.

- Defender Oscar Menjivar: on El Salvador's 2017 Copa Centroamericana roster, but he didn't see any action.

- With 9 goals, top scoring team in Central American under-20 qualifying

- Unbeaten in 7 of last 9 CONCACAF Under-20 Championship games [4W-3D-2L].

- U-20 World Cup Appearances: 1 [2013]

Bermuda

- 2017 CU20 Results: 1-1 draw v Trinidad & Tobago [Oneko Lowe 69']

- Appearances: 12 [1970, 1974, 1976, 1978, 1980, 1982, 1984, 1986, 1988, 1990, 1992, 2017]

- Best Finish: Quarterfinals-1 [1980]

- Record: 8W-5D-23L [45GF, 83GA]

- Qualification: Third Place, Caribbean

- Qualification Record: W-4; D-1; L-3; GF-18; GA-12

- Qualification Results: Bermuda 3, Cayman Islands 0; Haiti 3, Bermuda 0; Anguilla 0, Bermuda 7; Bermuda 3, St. Kitts & Nevis 1; Curacao 1, Bermuda 1; Antigua & Barbuda 3, Bermuda 2; Haiti 3, Bermuda 0; Trinidad & Tobago 1, Bermuda 2

- Qualification Scorers: Jaz Ratteray-Smith, Tevahn Tyrell [3]; Mazhye Burchall, Liam Evans, Knory Scott [2]; Osagi Bascome, Paul Douglas, Jahkari Furbert, David Jones, Jahnaze Swan, Mikiel Thomas [1]

- Midfielder/forward Osagi Bascome: signed a contract with English Championship side Bristol City on February 9, 2017, with an option for a further year; while on trial with Bristol City, scored one goal and assisted on two others in three appearances with the U23 team; made senior debut for Bermuda in a 1-0 loss to the visiting Dominican Republic in a Scotiabank CFU Men's Caribbean Cup match on June 4, 2016

- Kacy Milan Butterfield: in June 2016, signed a one-year contract with English League One side Walsall thanks in part to a recommendation by Bermuda U20 head coach Kyle Lightbourne, who starred for the club in the 1990s; has been a regular starter in the development side this season

- 1-1 draw v Trinidad & Tobago on February 19, 2017, was Bermuda's first CU20 game since drawing with Trinidad & Tobago, 0-0, on May 7, 1992, in Kelowna, Canada

- Scored 1 goal or fewer in 28 of 36 all-time CU20 matches

- U-20 World Cup Appearances: 0
Update 5.35pm: The official line ups for today's match: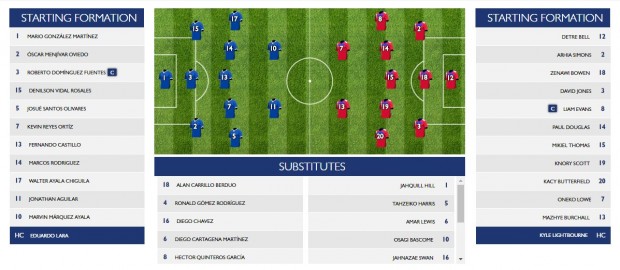 Update 8.33pm: El Salvador took a 3-0 lead, before Mazhye Burchall pulled one back for Bermuda, scoring in the 70th minute. The game ended 3 – 1.
Video of Bermuda's goal:
GOAL Bermuda, Mazhye BURCHALL No. 13 | @fesfut_sv #Bermuda #CU20CRC pic.twitter.com/jp6MAyDPk7

— CONCACAF (@CONCACAF) February 23, 2017

Read More About