[Updated] Bermuda's U/20 football team began taking part in the CONCACAF U20 Championships in Costa Rica today [Feb 19], with the island's U20 Gombey Warriors playing to a 1 – 1 draw against Trinidad & Tobago.
The official line-up for both teams is below, click to enlarge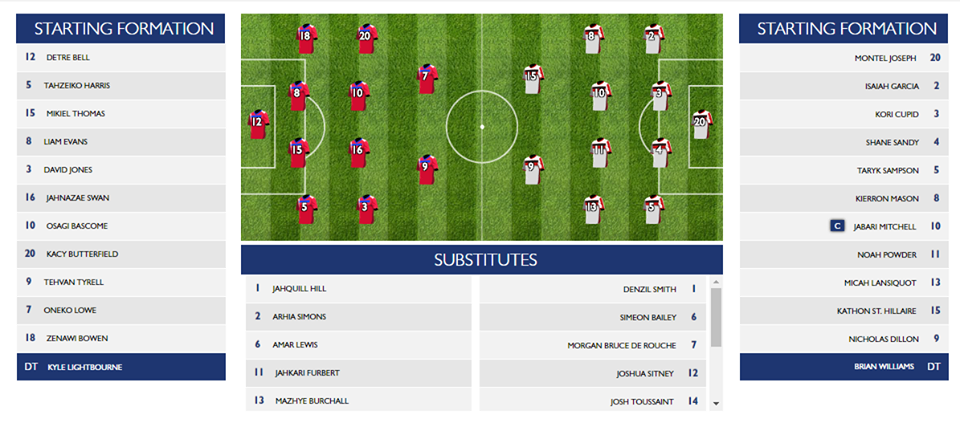 Trinidad took the lead in the first half with Kathon St Hillaire scoring in the 23rd minute to give his team the 1 – 0 lead, a score which held until the half time break.
Video of T&T's goal:
GOAL Trinidad and Tobago, Kathon ST HILLAIRE No. 15 | #Bermuda @TTFootballAssoc #CU20CRC pic.twitter.com/nohuhS8Axv

— CONCACAF (@CONCACAF) February 19, 2017
Both teams came out and played hard in the second half, and in the 69th minute Oneko Lowe scored for Bermuda, bringing the game even at 1 – 1. The two teams battled hard for the remainder of the game, which ended in a 1 – 1 draw.
Video of Bermuda's goal
GOAL Bermuda, Oneko LOWE No. 7 | #Bermuda @TTFootballAssoc #CU20CRC pic.twitter.com/utdHaaYvzm

— CONCACAF (@CONCACAF) February 19, 2017
Bermuda's U20 Gombey Warriors include Jahquil Hill of Stafford Rangers FC, Ahria Simons of X'roads, David Jones of Iikeston, Nathan Rego of SBRC, Tahzeiko Harris of Somerset, Amar Lewis of Dandy Town, Oneko Lowe of Dandy Town, Liam Evans of Robin Hood, Tehvan Tyrell of Iikeston, Kacy Butterfield of Walsall FC, Osagi Bascome of Bristol City FC, Jahkari Furbert of BAA, Detre Bell of NVCC, Mazhye Burchall of PHC, Paul Douglas of BAA, Mikiel Thomas of DRC, Jahnazae Swan of Dandy Town, Jaz Ratteray Smith of Somerset, Zenawi Bowen of North Village, and Knory Scott of North Village.
Update: Video highlights of the match:
-
Bermuda Coach Kyle Lightbourne previously said, "This is an opportunity to put Bermudian football more on the map. I have made it clear to our players that we are now coming up against the best in the region, so it is imperative that they focus on improving.
"This is the tournament we would really love to do well in and, for us, as coaches and all the staff that's going down there, our job is to push these guys to get the best out of them that we can."
"We shocked the Caribbean in being one of the best five U-20 teams last year. Well, now, we want to grow in pedigree in CONCACAF. That is our goal."
Update: Interviews after the match:
-
Update 6.25pm: CONCACAF's report said, "Oneko Lowe scored the equalizer in the 69th minute to give Bermuda a 1-1 draw with Trinidad & Tobago in the 2017 CONCACAF Under-20 Championship Group C opener for both at the Estadio Ricardo Saprissa on Sunday
"Lowe took advantage of a mistake by goalkeeper Montel Joseph, who came out too far at the top right of the penalty area. He knocked a deflection of a clearance into an open net to knot the score.
"The Soca Warriors were the more aggressive side in the opening half, which paid off with a 1-0 halftime advantage. Trinidad found space in the Bermuda defense as Nicholas Dillion slipped a through ball to an onrushing Kathon St. Hillare, who beat defender David Jones and then goalkeeper Detre Bell from 15-yards out in the 23rd minute."
On Wednesday, Bermuda faces El Salvador and Trinidad takes on Costa Rica at the Estadio Nacional in San Jose

Read More About