[Written by Nathan Carr]
Now the dust has settled, it's time to reflect upon Bermuda's performances at the CONCACAF U-20 Championship held in Costa Rica.
While finishing bottom of Group C, they can take great heart from the way in which they performed across their three group stage games. For an island of just over 60,000 people, they made a competitive showing, and the players and coaching staff can hold their heads high.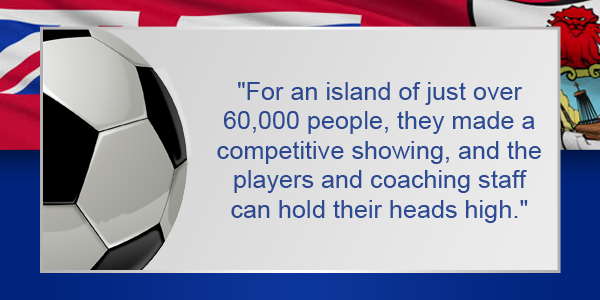 1-1, Trinidad & Tobago
The Gombey Warriors kicked off their campaign with a repeat of the third-place playoff match against Trinidad & Tobago last October, which they won 2-1.
Head coach Kyle Lightbourne set his players up in a 4-4-1-1 formation with Osagi Bascome, who officially joined Bristol City earlier this month, playing just underneath the lone striker Tevahn Tyrell. Kacy Butterfield and the captain Liam Evans provided the midfield base with Oneko Lowe and Jahnazae Swan on the flanks. Mikiel Thomas, Tazeiko Harris, Zenawi Bowen, David Jones and goalkeeper Detre Bell made up the back five.
Bermuda found themselves 1-0 down at half-time, although they could and should have scored at least once in the first half. When scoreless, a lovely floating ball from Bascome found Lowe, who squared perfectly for Tyrell but the big No.9 lacked composure at the key moment.
The Trinbagonian goal was executed swiftly. Kathon St Hillaire, who enjoyed an impressive tournament overall, made a darting run inside of left-back Jones and stroked the ball past Bell. Leading up to the break, Tyrell turned provider; Lowe pointed to where he wanted it, got it but snatched at his shot and Trinidad were given another lucky escape. This served as a stark reminder to Bermuda that they had to capitalise on their chances otherwise they would be punished by the opposition.
Lightbourne made two key substitutions during the second period to swing the game in Bermuda's favour. On came central midfielder Paul Douglas, who had a brief trial at West Ham United in 2010, to replace central defender Bowen. The versatile Evans slotted into the heart of defence and Douglas accompanied Butterfield at the base of midfield. And Tyrell was taken off in place of Jaz Ratteray in a like-for-like swap. These turned out to be inspired changes by the coaching staff as the pair played a significant part in Bermuda's equalizer.
Douglas demonstrated good vision to pick out the run of Ratteray, who used his pace to reach the ball before Shane Sandy and the opposition goalkeeper, Montel Joseph. Sandy's attempted clearance deflected off Ratteray and, perhaps a little fortuitously, dropped nicely for the oncoming Lowe to score one of the easier goals of his career. Bermuda were back on level terms with 20 minutes plus stoppage time left on the clock.
Few noteworthy incidents appeared after that as the match culminated in a stalemate, giving Bermuda a well-deserved point to kick-start their tournament. They left a bit too much space for Trinidad to work with at times, but showed that they could be a threat going forward. Now they had to turn their attention to and prepare for El Salvador three days later.
Oneko Lowe scores for Bermuda in the game vs T&T
3-1 [L], El Salvador
El Salvador had underlined their credentials by beating the hosts Costa Rica in their opener, so they were going to be a tough nut to crack for Bermuda.
Four changes were made to the starting line-up as key players such as central defender Harris, Bascome, Tyrell and Swan were left out. Arhia Simons started at right-back with Evans partnering Bowen in the centre of defence, Thomas pushed forward to right wing, Douglas was rewarded with a starting berth in central midfield following his effective cameo off the bench in the first game, Mazhye Burchall was used on the left and Knory Scott was almost a false number 9 with no recognised centre-forward on the pitch. Lowe was given the licence to roam and work in tandem with Scott.
The Gombey Warriors began brightly and on the front foot yet El Salvador slowly but surely grew into the game. Their centre-backs were given an awful lot of space and time to pass to each other as Bermuda sat back and looked to play on the counter-attack.
You could sense an El Salvadorian breakthrough coming, though, and it arrived in the 21st minute. An inswinging corner from the right was only partially cleared by Butterfield; Marvin Marquez burst past Simons, whipped a low cross into the six-yard box and the captain Roberto Dominguez poked home with Jones unable to block.
Bermuda had to weather a slight storm after Dominguez's opener and reached the break just one goal down. Every Bermudian player was working diligently and the diminutive Scott was looking particularly lively – he produced one lovely roulette 360 turn – so there was cause for optimism for the second half.
However, a two-minute spell in the second half took the match away from Bermuda. El Salvador doubled their lead when Fernando Castillo cut inside onto his favoured right foot and unleashed a curling shot into the top right hand corner. Bell was given no chance whatsoever.
Then, more or less as soon as Bermuda had restarted, El Salvador hit them on the break with Josue Rivera on hand to make it 3-0. Evans and Bowen had gone forward and simply didn't have the legs to get back in time.
Lightbourne's side did pull one back, though, and what a goal it was too. The substitute Bascome's free-kick delivery found Burchall, who set himself up, swivelled and rifled his volley into the roof of the net. The ball didn't even touch the ground. A superb piece of individual magic from the PHC player.
Albeit that goal was a consolation. The truth was that Bermuda had left themselves too much to do having conceded those quick-fire goals from Castillo and Rivera. Costa Rica beat Trinidad & Tobago 1-0 later that evening, meaning Bermuda still had a mathematical chance of advancing to the final round when they played the Costa Ricans in their final fixture.
Mazhye Burchall scores for Bermuda in the game vs El Salvador
2-1 [L], Costa Rica
By the time Bermuda kicked off, Trinidad & Tobago had beaten El Salvador and therefore moved up to four points. Bermuda needed to claim three points and win by a considerable margin to stand any chance of qualifying. A draw would not have been enough for them, but would have helped their Caribbean counterparts in the group.
Bermuda set up in a 4-2-3-1 with the back four staying the same and Bascome and Tyrell coming back into the fold for Thomas and Douglas. Scott operated in the hole, Bascome deeper alongside Butterfield and Lowe and Burchall occupying the wings.
The team got off to a fantastic start when the dangerous Lowe pounced on a loose goal kick. He beat his man in a one-against-one duel and coolly finished past Mario Sequeira in the Costa Rican goal. This was his second goal of the tournament and he kissed the Bermudian badge in celebration. For the first time, Bermuda had opened the scoring against the opposition as opposed to having to chase the game. How would they cope in these circumstances?
Well, unfortunately, Bermuda couldn't maintain their lead up until half-time. A freak own goal by Tyrell gifted the Central Americans a passage back into the game which gave them the impetus heading into the second half. The striker tried his best to clear from the corner, but he got his feet tangled and the ball somehow ended up in his own net. What can you do?
Perhaps the defence could have done better to prevent Costa Rica's second shortly after the restart, although Randall Leal was sharper than anybody else for the move. With Jones distracted by another player, a gap formed in between him and the rest of the defence and Leal cleverly threaded a pass through to Jimmy Marin. He never had complete control of the ball which fell nicely for Leal to hit sweetly into the bottom corner for his second goal in as many matches.
Ratteray and Nathan Rego, whose goals helped Somerset Eagles achieve promotion to the top-flight last season, entered the action with the aim of getting Bermuda back into it. The final 20-25 minutes were a tad frustrating to watch, though, with lots of long balls played over the top and Costa Rica were all too happy to sweep them up. Instead of playing short, simple passes to feet, some of the players were trying elaborate passes into the channels.
Oneko Lowe scores for Bermuda in the game vs Costa Rica
Progress Has Been Made & Future Is Bright
The players worked tremendously hard throughout, especially in the latter stages. They fought for every ball, chased every seemingly lost cause and hassled their opponents as much as possible. At full-time they were left dejected but with the satisfaction of knowing that they gave it their all on the pitch. To think that Bermuda lost 4-0 to Costa Rica in their last meeting at U-20 level in 1992 underlines the progress that has been made.
And so, Bermuda came away empty-handed having begun so purposefully, the own goal shifted the momentum and they only narrowly lost in the end. They finished with a record of played three, drew one and lost two. Three goals scored, six conceded, a goal difference of -3.
I must say that the skipper Evans stood out as a player with real fight, versatility and ball-playing skills. Lowe enjoyed a productive tournament, Burchall scored that memorable volley against El Salvador, Scott had some flamboyancy to his play, Ratteray looked like he could potentially offer more going forward. Indeed, every member of the squad played their part.
I also feel that the fact some squad members are contracted to clubs overseas helped raise performance levels. Being exposed to a higher standard of competition and a higher standard of coaching is inevitably going to have a positive effect on those players such as Bascome at Bristol City, Butterfield at Walsall and so on. That's not to discredit the locally-based players, either, who showed that they can hold their own at this level.
Size isn't everything, of course, but for a small island like Bermuda to compete as well as they did against Trinidad & Tobago [1.3m population], El Salvador [6.1m] and Costa Rica [4.9m] is no mean feat.
Certainly, the future seems bright for this current crop of Bermudian youngsters. If the nucleus of the team can be kept and lessons can be learned from this campaign, then there is no reason why Bermuda can't go even further in the next qualifying cycle next year.
- Sports journalist Nathan Carr is the founder of 'The Home of Caribbean Football' website and @caribbeanftbl Twitter feed, and reports on football throughout the region.

Read More About