[Written by Nathan Carr]
Captain of the national U-20 team, Liam Evans chats with Bernews about his career so far, his experience while playing for Bermuda and what was the greatest piece of advice he has been given and many more.
Mr. Evans plays for Robin Hood in Bermuda and Northern Kentucky University in the USA. He was one of the standout performers at the U-20 Championship held earlier this year and he explains in great depth his background and dreams for the future.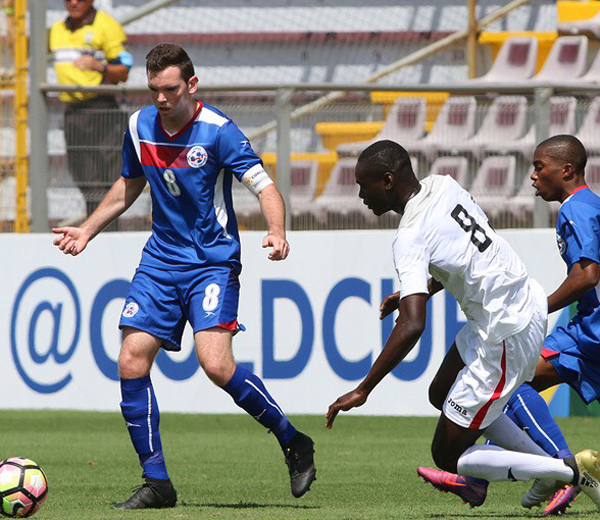 Q: Firstly, can you explain a little how you initially got involved in football to begin with?
I first got involved with football at an early age. In Bermuda, football is something that almost every kid plays so it wasn't a hard decision. I played football recreationally until I was about 7 years old and joined my first club. Growing up I played most sports although football was always my focus. I have also represented Bermuda in baseball at the little level, going to Curacao to compete in the Caribbean qualifiers for the little league world series. I played just about every sport for my high school and was my high school's athlete of the year three years in a row. I was also awarded the Denton Hurdle Award for Bermuda's best high school athlete in my senior year [2015].
Q: What is your family background like – are you from quite a sporting family for example?
My father is Bermudian and my mother is from New York, USA. My dad was a good athlete and played football when he was younger but never played at an extremely high level. My sister used to cycle and won a bronze medal for Bermuda at the Caribbean cycling championships when she was younger [she's currently 25] and now works in Bermuda as a pharmacist. Both sides of my family are fairly active and athletic but no one that I can think of has had any resounding success as an athlete.
Q: What are some of the clubs you have played for?
I have played for a few clubs since I was a kid, but the main ones were Valencia [part of Andrew Bascome's ABC football school] from ages 11-16 and then Robin Hood who I currently play for. The program at Valencia really helped me develop as a footballer and I owe most of that to Bascome who coached myself, and a lot of others, throughout my time there. Many of the U-20 team members played for Valencia at some point including Paul Douglas, Tevahn Tyrell, Cameron Neal and Detre Bell who played for a year with us.
I moved to Robin Hood aged 16 when they were still in the first division. In my first season there, we won the first division league and were promoted to the premier division of Bermudian football. I was also a nominee for Young Player of the Year. I then played one full season in the Premier League before I went away to college in 2015. I am currently based in the USA at Northern Kentucky University, where I am playing Division 1 college soccer. I am in my third year here and completing a degree in exercise science [kinesiology]. I am still a member of Robin Hood though so when I go home at Christmas I can play for them.
Q: How was it playing for Bermuda – and captaining them – in the CONCACAF U-20 Championship held in Costa Rica earlier this year?
Playing for your country is something special, but having the opportunity to captain Bermuda on our journey to the U-20 Championship and in the tournament itself was definitely something that I didn't take for granted. I was first told I would be captaining the team in the airport on our way to Haiti for the first round of qualifiers. Admittedly I was a little surprised when I was first given the news but I knew our coach Kyle Lightbourne quite well having played under him at Robin Hood and he knew what I was capable of. I scored twice in our 3-0 win in our first game against the Cayman Islands in that tournament and I think that help set the tone for us as a team and myself as the captain.
Unfortunately, due to school commitments, I was unable to travel with the team to Curacao for the Caribbean final round. Once we qualified for the CONCACAF Championship I knew I would be there no matter what though. Leading the team out in all three games we played in Costa Rica was pretty incredible. There's no feeling you can compare with it. The Bermudian people were also a big help to us when we were down there. Ask any Bermudian footballer and they'll tell you that fans can be your best friend or your worst critic, but when we were in Costa Rica I think everyone realized how big this was for us and the support we were getting in the news and on social media was amazing. They really helped motivate us and kept us going no matter what.
Q: How would you describe yourself on the pitch as in your style of play and key attributes?
I would describe myself as a hard-working player who reads the game well. I am quite good on the ball and a good passer of the ball. I also have a good shot on me, especially from distance. I think of myself as an on-field leader who generally leads by example and lets my play do the talking.
Q: What's the greatest piece of advice you've been given so far in your career?
The greatest piece of advice I've been given is that nothing worth having comes easy. Playing competitive football at any level has its struggles. No matter how much you love the game, there will be times when you think that you hate it and may want to quit. Andrew Bascome always used to tell us that 'football builds character' and in my opinion those words couldn't be any truer. As a player I have been through some very good times but also some rough ones, especially when coming to America to play in college. With the help of my family, and some important people back home, I was able to get through it though. After a pretty good season this fall, I hope to make my senior collegiate season one for the books.
Q: Obviously, you're still young, but what do you hope to achieve in your career long-term at both club and country level?
I'm honestly unsure as to what the future holds for me. I have one more year left in college, and as of right now my plans are to continue my education at the graduate school level for physical therapy after I graduate in May of 2019. However, you never know what opportunities could pop up so I am keeping an open mind as far as my future goes and whether that involves me still playing at a high level somewhere. Obviously, I will always be able to play for a club back home and plan to do that for as long as I can. I also hope to break through into the senior national team. It was nice to get my first senior cap earlier this year and I'm looking forward to what the future holds for me with the national team and what we can do. I think we have a good group of players in the team now as well as some younger guys coming up, including myself.
- Sports journalist Nathan Carr previously ran the Home of Caribbean Football, and reports on football throughout the region, and also serves as a guest contributor to Bernews. You can read his past reports on Bermudian football here.

Read More About