Bermuda's Hannah Eggen was featured onstage at a recent Wyclef Jean concert, with the Grammy award-winning artist giving her a 'shout out' for her dancing skills, asking the audience to "make some noise for the great Hannah out of Bermuda."
Screenshot from the broadcast showing Hannah Eggen & Wyclef Jean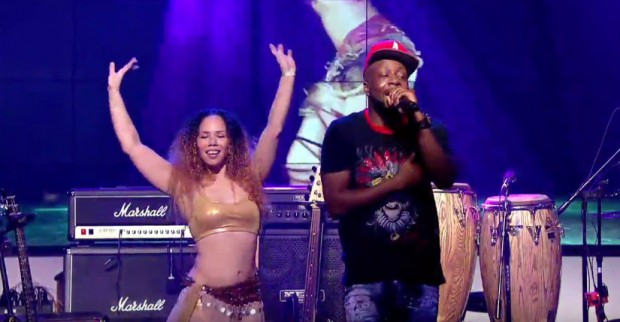 Ms Eggen is a talented singer, however this time the entertainer wasn't wooing the audience with her voice, but captivating them with her dance skills, as she joined Wyclef Jean on the YouTube Live stage for the Carnival 20th Anniversary Celebration Live from L.A. earlier this week.
Wyclef ended the set by saying, "Make some noise for the great Hannah out of Bermuda. Everybody on this live stream, I was singing this song, nobody was paying attention to me. Everybody was watching Hannah!"
The concert video is below, the section featuring Ms Eggen starts at around 1 hour, 48 minute in:
Ms Eggen — the lead singer for the soul-pop band HEЯITAGE™ — is currently living in Los Angeles as she is preparing to release new music later this year with her band mates, Bermudian musician Gianluca Gibbons and California native, Kevin Jimenez.
Speaking after her appearance at the concert, the singer and dancer stated, "It was an honour to share the stage once again with Wyclef, a living legend, while representing my beautiful island home, Bermuda."
Quick excerpt of the concert showing Wyclef Jean's comments about Hannah

Read More About
Category: All, Entertainment, Music, News, Videos