Marcus' — the Marcus Samuelsson restaurant at the Hamilton Princess & Beach Club – is re-opening this week with a fresh new look and menu.
The restaurant is re-opening its doors to the public at 8pm this evening after undergoing a refresh during February.
"Fans won't be disappointed when they see the restaurant's refresh and impressive new look. The biggest change will be the removal of the wall behind the bar, opening up the restaurant's already spectacular views even more," a spokesperson said.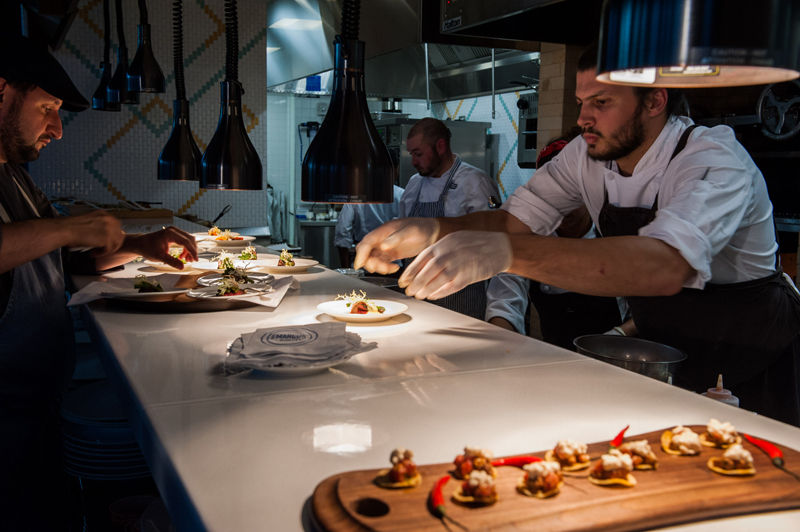 "New lunch and dinner menus will offer a wide variety of mouth-watering bites, appetizers, main courses and desserts to choose from.
"The dinner menu's appetizers include Shrimp & Pork Belly Hot Rice, Lobster Cocktail and Chicken & Waffles. Main courses include Fire Grilled Wahoo or Octopus Ragu Pasta 'from the fisherman' and Obama's Short Rib or The Lenox Smash Burger 'from the butcher.'
"The popular Cornbread Madeleines and Fish Chowder Bites will still be available at lunch and dinner.
Allan Federer, General Manager at the Hamilton Princess & Beach Club, said: "We look forward to welcoming the public to our new-look signature restaurant to sample Marcus' globally infused menu.
"The restaurant's refresh has added even more glamour and the completely revamped lunch and dinner menus will take dining in Bermuda to a whole new level. The central bar, open kitchen and now even better uninterrupted views of the Atlantic Ocean will not disappoint."
Open since May 2015, the facelift will carry on Celebrity Chef's Marcus Samuelsson's vision of offering a vibrant and authentic dining experience.
For more information on Marcus' visit the website at www.marcusbermuda.com. The restaurant is open for lunch from 12pm to 3pm, dinner from 6pm to 10pm and late-night dining from 10pm to 12am. Champagne brunch is served on Sundays from 12pm to 3pm.

Read More About
Category: All, Business, Entertainment