Studio One will host a fitness class for women this Saturday, March 11 to raise funds for the Women's Resource Centre [WRC].
The 30 minute class starting at 9.30 a.m. will be an introduction to a new program for women offered by Studio One Certified Personal Trainers Randy Brangman and Nicole Rozon.
They have designed a special weight training program accessible to women at all fitness levels to improve their health and well being. Proceeds from the program will be donated to the Women's Resource Centre.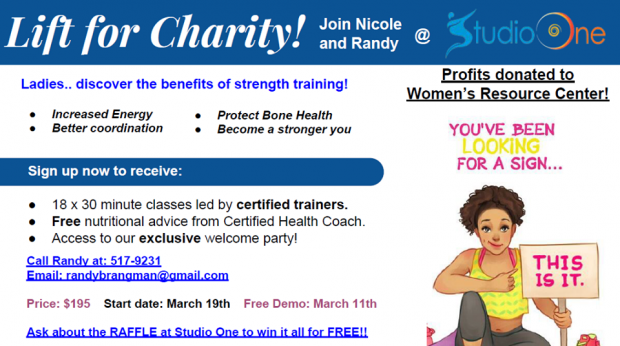 The program offered at Studio One, located at 1 Victoria Street, Cumberland House, Hamilton, will involve resistance training, instruction in proper form and technique and core fitness.
"We are introducing the Lift For Charity Program to help women gain strength not only physically but mentally," said Ms. Rozon. "The 6 week course will empower women to make changes in every aspect of their lives as mothers, daughters and caregivers."
Ms Rozon added: "We will be donating to the Women's Resource Center to help those who are still fighting barriers, physical and mental.
"We recognize that there are women that are still fighting for themselves and their family. We are providing not only the physical training but the resources to help them lead a better life."
For more information or details to register for the program contact Randy Brangman at 517-9231 or randybrangman@gmail.com

Read More About
Category: All, Entertainment