Teachers Rugby Football Club has continued their philanthropic partnership with local charities, and in 2016, the club raised a significant sum of money and have donated $3,000 to The Reading Clinic.
Members of TRFC take part in the Bermuda Day Half Marathon derby, annually, through individual runners and relay teams.
The runners participating are not limited to rugby players, but also spouses and children of team members as well as youth players and friends of the TRFC, who make their way through the racecourse in a pack, distinguished by their TRFC running tops.
The Reading Clinic Administrator DeAndrea Easton, Executive Director of The Reading Clinic Dr. Glenn Faries, RFC President Bill McNiven and TRFC Treasurer James O'Shaughnessy.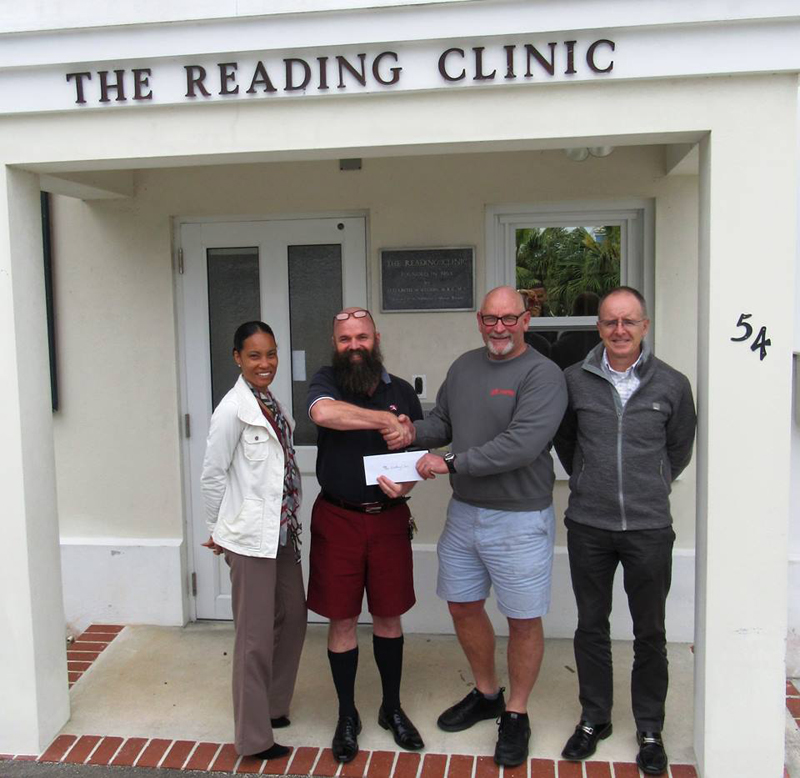 TRFC Treasurer James O'Shaughnessy remarked, "The Reading Clinic is making a very positive impact in the development of children. They are providing access to all children who are in need of their services. I have seen first hand what can be accomplished at The Reading Clinic and it's unbelievable."
Club President Bill McNiven said, "Literacy is something that is a necessity, but it is not a skill that comes easily to everyone. If our contribution can help young people who are suffering from dyslexia, or comprehension problems, then we are doing ourselves a favour in ensuring a positive education for the youth of Bermuda."
Mr. McNiven continued, "I would also like to thank our sponsors Auto Solutions Limited, who supplied our running jerseys. Their sponsorship means a lot to us and allows us to give back to our community."
Executive Director of the Reading Clinic, Dr. Glenn Faries commented, "This gift is a much needed boost to our finances, and will assist us in providing bursaries to students in need of our services, but whose families are struggling financially. We and our students are very grateful for the generous philanthropy of this group."

Read More About