Saying they plan to make the "busy summer schedule sizzle," the America's Cup Bermuda announced a raft of summer activities which will take place, including Reid Street Busking, Bonfires & BBQ's, Movie Lounge, Tall Ships concert, Pirates & Plunder Celebration Zone, Sunset Market, Tiki Beach Party, and more.
"Bermuda's hosting of the 35th America's Cup in May and June has created additional entertainment and activities that provide new or more robust economic opportunities for Bermudians," the ACBDA said.
"While all the America's Cup action takes place at Cross Island in Dockyard, various other events are planned in the City of Hamilton and the Town of St. George to make the busy summer schedule sizzle.
"Organisations including the Bermuda Tourism Authority [BTA], City of Hamilton, WEDCO, Tall Ships, Bermud Chamber of Commerce and Bermuda Heroes Weekend have designed unique events to showcase Bermuda during the America's Cup.
"These events will add to the vibrancy of the America's Cup, will showcase the spirit of Bermuda and will afford locals and visitors a gateway to experience the island beyond the Great Sound.
BTA Chief Product & Experiences Development Officer Pat Phillip-Fairn, ACBDA CEO Mike Winfield, City of Hamilton COO Ed Benevides, Tall Ships Chairperson Cindy Campbell, BHW President Jason Sukdeo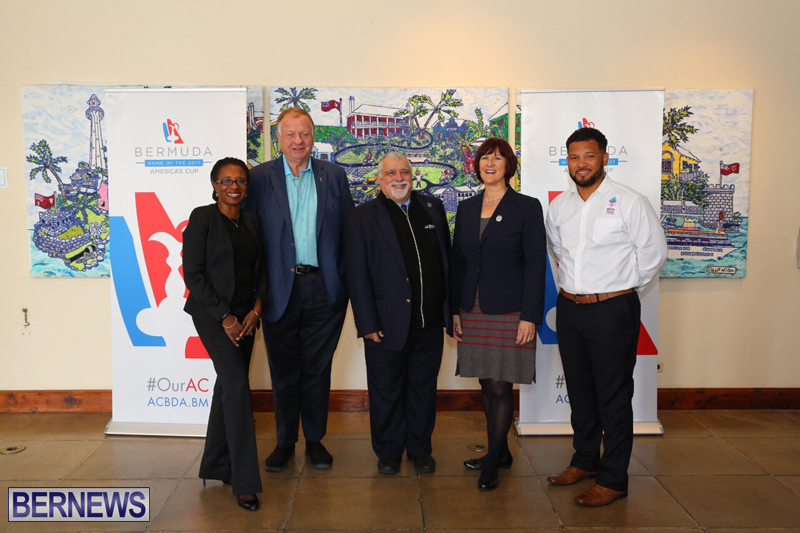 Mike Winfield, CEO, America's Cup Bermuda [ACBDA], says: "With the large volume of visitors we expect during the 35th America's Cup, we are collaborating across the community to ensure there are plenty of activities on offer.
"We are pleased with the variety of events and activities that our stakeholders have initiated and encourage locals to participate in as many ways as they can as well as enjoying the events in the America's Cup Village in Dockyard."
"The America's Cup events begin on May 26 with the racing starting at 5pm followed by the Opening Ceremony, which promises an exciting combination of music, live performers, fireworks and Red Bull skydivers.
Key dates include:
May 26: Louis Vuitton America's Cup Qualifiers & Challenger Playoffs begin
June 12 and June 13: Bermuda's own TeamBDA race in Red Bull Youth America's Cup Qualifiers
June 20 and June 21: Red Bull Youth America's Cup Finals
June 17 and June 18: America's Cup Match racing begins
June 24 to June 27: America's Cup Finals
"Additional Bermuda experiences will begin with Tall Ships events in St. George's on May 26 through until May 31 including a Pub Crawl, Art Walk, Blessing of the Boats, Cricket Festival and more before the boats sail to Hamilton.
The Event Infographic is below [PDF Here]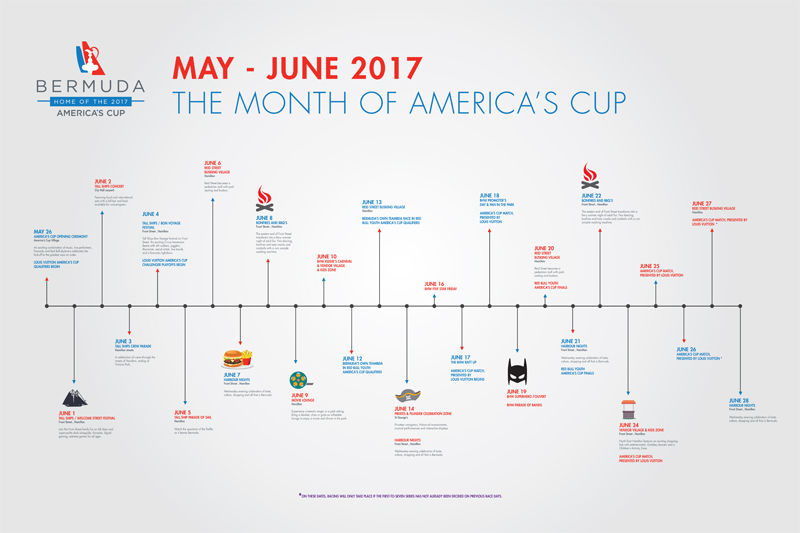 "June 1st with the Tall Ships Welcome Street Festival on Front Street which includes karaoke, digital gaming and much more. June 2nd will see the Tall Ships concert featuring local and international acts in the City Hall Car Park. Tall Ships Festivities continue until June 5th with a Bon Voyage Festival and a Parade of Sail as the flotilla leaves the Island.
"Reid Street Busking will be held on June 6th and June 20th with park seating, busking entertainment and street side vending followed by the kick-off of Harbour Nights on Wednesday, June 7th, the continuing every week on Front Street.
"A new event for the season is Bonfires and BBQ's, which will be held on June 8th and June 22nd on Front Street. This event will feature a fiery night of entertainment for adults including a live band, performances by Rock Fire Productions, bonfires, a beer garden and more.
"On June 9, a Movie Lounge is scheduled in a city park with two showings and a happy hour experience. June 10 will see two events – Bermuda Heroes Weekend Kiddie Carnival and a Vendor Village and Kids Zone in Northeast Hamilton with fish sandwiches, Gombey Dancers, local entertainment and more. The Vendor Village and Kids Zone will also be held on June 24.
"St. George will join the action on June 14 with the Pirates and Plunder Celebration Zone with privateer navigators, historical re-enactments, musical performances and interactive displays.
"Meanwhile, BHW kicks off their main events on June 16 with Five Star Friday, Raft Up on June 17, Promoter's Day and Pan in the Park on June 18 and finally, J'Ouvert and Parade of Bands on June 19.
The 15-minute live video replay is below:
"WEDCO will host events during AC35 at Snorkel Park including a Sunset Market every Sunday from 4pm to 10om, Sun Sundays from 1pm to 12am, Monday VIP Bonfires on the beach from 6:30pm to 10pm and Thursday Tiki Beach Party & Sunset Market from 6:30pm to 10:30pm.
Ed Benevides, Chief Operating Officer, City of Hamilton, says: "The City of Hamilton is very proud to join with its partners and stakeholders to ensure that Hamilton is brimming with activity and events before, throughout and after the America's Cup competition.
"With plans to further beautify the City and attract our locals and visitors alike with vibrant and exciting initiatives, we are excited to welcome the thousands of expected visitors and hope they take advantage of all that Hamilton will have on offer."
Pat Phillip-Fairn, Chief Product and Experiences Development Officer, BTA, says: "It's important to the Bermuda Tourism Authority that visitors coming for America's Cup are exposed to Bermuda Island life at its most vibrant – be it our entertainers, entrepreneurs or cherished Bermuda brands.
"We will encourage race fans to arrive early and stay late so that they can experience Tall Ships, Bermuda Carnival or one of the three celebration zones we are helping to create in Hamilton and St. George.
"The 35th America's Cup might be the reason many are coming to Bermuda in May and June, but we know exposing visitors to our way of life will be the secret to them coming back."

Read More About
Category: All, Entertainment, News, Sports