[Updated with video] "Leisure air arrivals and the amount of money those visitors spend in the local economy were both up sharply in the first quarter of 2017 when compared to the same period a year ago, making for the fifth consecutive quarter of growth for the Bermuda tourism industry," the Bermuda Tourism Authority said today.
The BTA said, "Between January and March 2017, leisure air arrivals grew 19 percent year-over-year and air vacationer spending surged 30.5 percent. There have been 15 consecutive months of growth for the local tourism industry dating back to January 2016."
"The number of leisure air arrivals [21,702] is the highest since 2008, representing $26.3 million in estimated direct spending on-island. The expenditure figure grew $6.1 million in the first three months of the year when compared to the same time period the year before.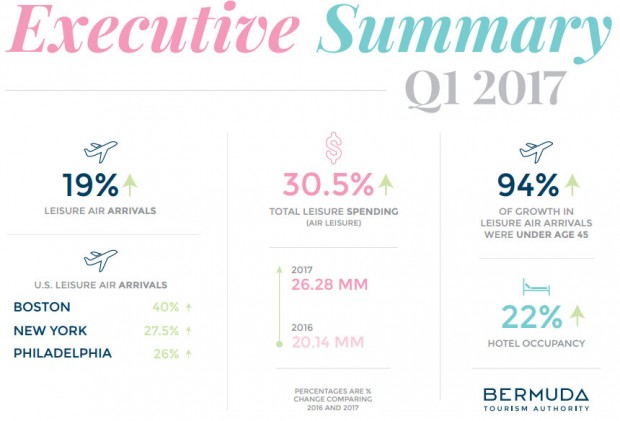 "Business air arrivals and business visitor spending also saw sharp increases in the first quarter, bringing total spending to $42.7 million over the three months. The period from January to March makes up more than half of the shoulder season.
"Among vacationers travelling to Bermuda by air, the trend of visitors under 45 years old continues to grow impressively. In the first quarter of 2017, 94 percent of the growth was in travellers under age 45.
"According to Bermuda Tourism Authority officials, demographic trends that skew younger are critical to the sustainable growth of the Bermuda tourism industry going forward.
"Hotel occupancy in the first quarter was up 22 percent when compared to the same period in 2016. The performance represents an 8 percent move from 35.8 percent occupancy to 43.8 percent occupancy over the first quarter of 2016. Revenue for hotels was also up notably."
"Additionally, for the first time, the Bermuda Tourism Authority has released vacation rental data as part of its quarterly reporting, which can be viewed online. The vacation rental information will be updated monthly going forward.
"The publication of vacation rental performance data will allow the public to see what percentage of visitors choose this accommodation type. The Bermuda Tourism Authority will release more detailed information about vacation rentals tomorrow."
Bermuda Tourism Authority CEO Kevin Dallas said: "These performance numbers are gratifying to the Bermuda Tourism Authority because every day we chase two chief objectives: grow demand for air vacationers to Bermuda through targeted marketing and improve product and experiences on-island so that visitor spending goes up.
"The past 15 months of results are proof that our sales and marketing team in New York and our product and experiences team here in Bermuda are hitting their marks, and Bermudians who have their livelihoods in tourism are benefiting."
Mr Dallas said: "While we still have a long way to go to get things where we want them in the shoulder season, the progress being made is sizeable. The results confirm the Bermuda Tourism Authority's shoulder season strategy to attract sports, social and business groups is working to bring volume during the winter months."
The BTA's 2017 first quarter statistics follow below [PDF here]:

Read More About