Budget-minded Americans who worry they could not afford a Bermuda vacation can cross the island off their bucket list of dream destinations if they follow a few simple guidelines, according to a new article from Forbes.
Bermuda is included in a new Forbes.com list of some of the world's most desirable holiday spots, but places which are also usually associated with high price tags. Other destinations in the Forbes round-up include Japan, Antarctica, Botswana, Switzerland and the Amalfi Coast of Italy.
But Forbes contributor Laura Begley Bloom spoke to various travel writers and other specialists in the tourism field about how travellers can enjoy affordable getaways in these locales without breaking the bank.
She talked to Julia Dimon, co-host of the TV series Word Travels and author of the book Travel Junkie: A Badass Guide to Solo Female Travel, about Bermuda.
Ms Dimon recommended those travelling on a budget visit Bermuda during the November-March off-season and save money on transportation by exploring the island on buses and the ferries.
Ms Dimon on the beach, photo courtesy of Forbes: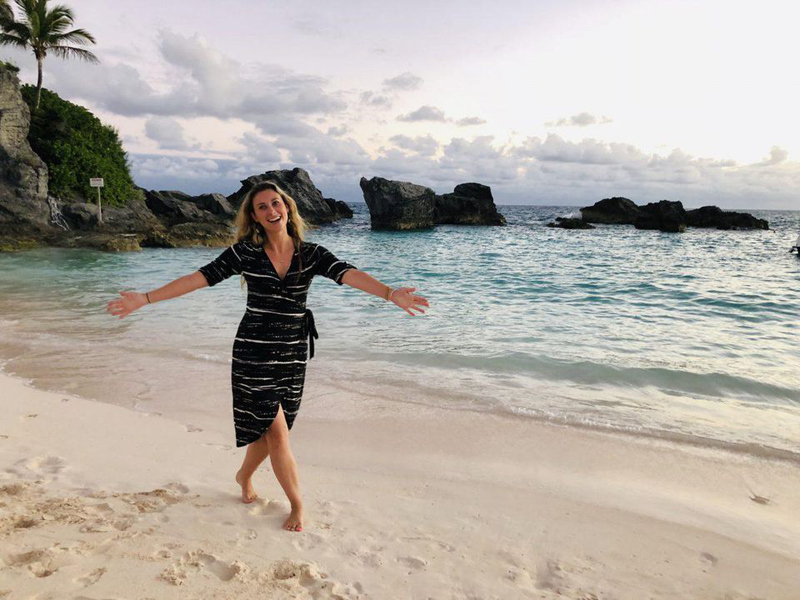 "Bermuda has some of the most gorgeous beaches in the world, and you can visit them for free," said Ms Dimon. "I took my two kids [aged 2 and 4] to Horseshoe Bay Beach in Southampton Parish. At the western end of the sandy strip, you'll find Baby Beach, a calm, protected cove perfect for toddlers.
"For an affordable morning activity with the kids, visit The National Museum of Bermuda's playground and playhouse at the Royal Naval Dockyard. Easily accessible by ferry, tickets to the museum cost $15 for adults; kids under 16 are free.
"Within the confines of the largest stone fortress on the island, this playground includes a 70-foot-long moray eel that kids can crawl through and a 21-foot-tall slide replica of the St. David's Lighthouse. Pop into the adjacent playhouse, featuring hands-on exhibits about Bermuda's maritime history."
"Another great day trip that won't break the bank: a visit to Crystal & Fantasy Caves, a whimsical subterranean world of stalactites and stalagmites that was the real-life inspiration for Jim Henson's Fraggle Rock."
You can read all of her travel tips at the business and lifestyle website here.

Read More About
Category: All