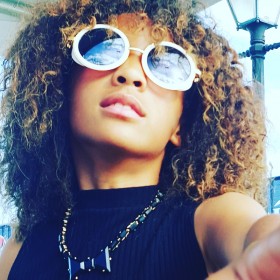 [Written by Eron Hill]
Che'-Chulae' Monet Dowling  is not your average 12-year-old. The young model, footballer, dancer, and equestrian has a work ethic second to none that has allowed her to succeed at anything that she sets her sights on.
Her most recent accomplishment is the launch of her own website. There you can find her blog with a detailed account of her accomplishments and upcoming events, as well as booking info for the young model and actor.
Ms. Dowling attended primary school at Purvis Primary and is now an M2 student at T.N Tatem Middle School. She began her modelling career in 2010 when she was selected to model for Stefanel, a European fashion line.
In that same year, Ms. Dowling was selected for Top Kid Model USA and was awarded 1st runner-up and most photogenic. This was followed by a runway appearance in the Bermuda 2012 Evolution Fashion Show.
At such an early age, the young actor has had the pleasure of being involved in an endorsement video produced for SCARS by Burnt House Production which featured Catherine Zeta-Jones and Michael Douglas.
'Che-Che' as she is known by family and friends has come to appreciate the value of being a diverse individual by keeping herself involved in a variety of activities.
'I can not only model, dance, act and sing but I am also, an avid sports athlete' says the 12-year-old.
She has played locally for the Valencia football team and Bermuda Football Association Women's Academy. This summer she will be travelling with David Bascome's football academy [B-Pro] as they travel to Baltimore for a Pre-Season Training Camp.
Che-Chulae credits her parent's unwavering support of her endeavours and interest for much of her success thus far.
When asked who some of her role models were the young lady said 'First and foremost, God gets all the glory! As far as people I would say my Grandparents, my big brother King Jah. He works so hard! My soccer coach, Ms. Nikita Robinson and last but not least USA Women's soccer player Carli Lloyd all inspire me.'
In response to one of her recent letters to the editors, she was ecstatic to receive feedback and encouragement from Stephanie Marley, the daughter of the late Bob Marley.
Notwithstanding her many accomplishments this young lady understands the value of remaining focused and disciplined.
'My passion is fashion and I one day would like to work on making some designs of my own. In the meantime, I'm working hard at my craft and doing my best to be sure that I remain humble and focused!' – Che'-Chulae' Monet Dowling
These are timeless words by one of Bermuda's budding stars. Bermuda has a wealth of local talent and potential. Ms. Dowling is but one example of the many inspirational young Bermudians that this island is producing.
I'd like to join the rest of Bermuda in wishing her continued success in both her academic and extra-curricular pursuits. There is no doubt that she will continue to do us proud as she continues to exemplify excellence and exceed expectations.
Che'-Chulae' Monet Dowling can be found on Instagram at: cheche_101: Her website is cheche-101.com and bookings can be made through her mother and manager, Ms. Natasha Dowling via the website in the bookings section.
Read More About
Category: All, Entertainment, News