[Updated] Dr David Saul — who served as Premier of Bermuda from 1995 to 1997 — has died at age 77.
According to his biography, "In addition to his public service background, Dr. Saul held two senior posts with Fidelity Investments, from 1984 through 1995, as the President of Fidelity Bermuda and Executive Vice President of Fidelity International.
"He retired from the firm in 1999 but remains a Director of Fidelity's main international Board, and a Director of some 40 other Fidelity companies around the world – including the U.K., Bermuda, Jersey, Tokyo, Hong Kong, Cayman Islands, Luxembourg and Taiwan.
Dr Saul being honoured by Bermuda College in 2014: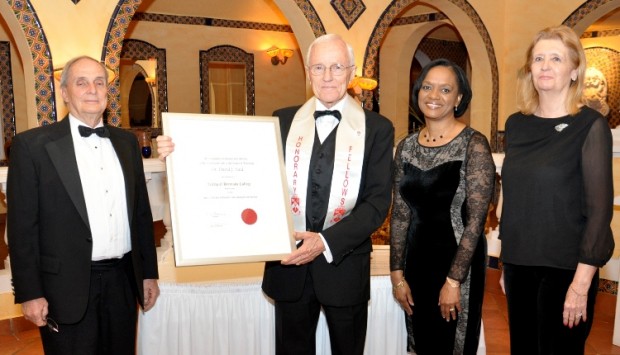 "A keen oceanographer with a passion for shipwrecks and the sea, he was a founding Trustee of the Bermuda Underwater Exploration Institute and a founding Director of the Professional Shipwreck Explorers Association."
Opposition Leader David Burt said, "On behalf of the Progressive Labour Party, I extend condolences to the family of former Premier Dr. David Saul.
"Dr. Saul served as Premier under the United Bermuda Party administration from 1995-1997 and we thank him for his service to our country. Dr. Saul was a man of tremendous energy and, in every pursuit, he was determined to do things well.
"To his wife, Christine, children Jonathan and Robin, grandchildren, extended family and friends, I pray that your memories will sustain you during this difficult time."
Update 12.15pm: Premier Michael Dunkley said, "My colleagues and I were so saddened to learn of the passing of former Premier, Dr. David Saul. On behalf of the Government and the people of Bermuda, I extend deepest and sincerest condolences to Dr. Saul's family and friends.
"Dr. Saul was a man of great integrity who had such an immense love for Bermuda. His career spanned many years in public service, including serving in the roles of Permanent Secretary of Education and Financial Secretary.
"As the Minister of Finance and later as the Premier of Bermuda, he represented our Country with passion, pride and vision, advancing key policies aimed at progressing Bermuda forward.
"In his later years, as the public is keenly aware, he devoted all of his energy and attention to his philanthropic endeavours. Working with various charitable organizations Dr. Saul made it his mission to raise awareness about the importance of protecting and preserving our marine environment.
"Personally, I was proud to call Dr. Saul a friend. I will remember him for his kindness, his generosity, his adventurous spirit and for embracing all that life had to offer. He will be greatly missed. May he rest in peace."
Read More About