A significant part of the return of a Japanese challenger to the America's Cup after a 15-year hiatus has been the development of a legacy platform to support and develop Japan's future generation of sailors.
Kaijin [which translates to 'God of the sea'] Team Japan is the Youth Team that will represent Japan in the Red Bull Youth America's Cup this June in Bermuda.
Under the wing of SoftBank Team Japan, the Youth Team is an instrumental piece of the legacy program to inspire and encourage Japanese sailors to reach professional level.
Kaijin Team Japan has been calling SoftBank Team Japan's Bermuda base its home for the past six months, learning from the senior team that they one day aspire to be part of, accessing technical and human support, as well as being fortunate enough to use a boat for their training.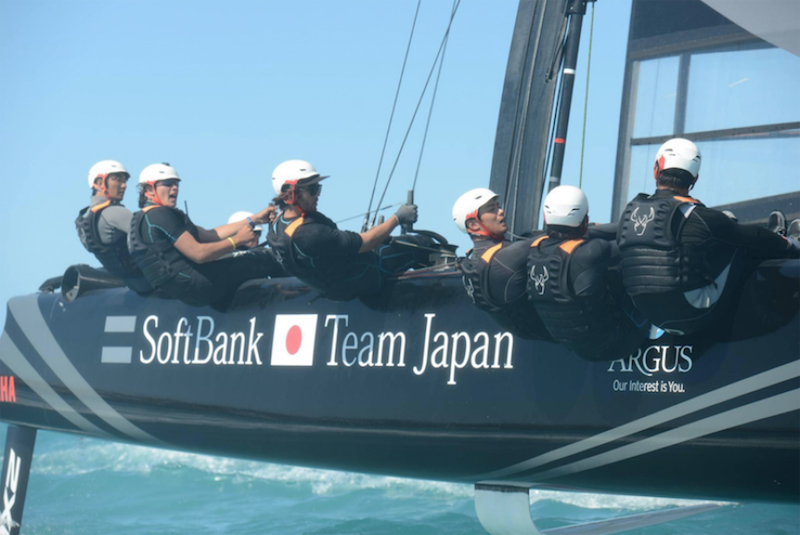 The team came together following the SoftBank Team Japan crew trials in late 2015. From there, the first members of the team – Alex, Federico and Tim – formed the Japanese challenger for the Red Bull Youth America's Cup.
The team's Trimmer and Fitness Manager Tim Westwood explains that after they didn't make the cut for SoftBank Team Japan, the trio thought they should present a youth challenge and went on to hold two sets of trials and built the team up from there.
He said, "We started training in the GC32, picked the final crew in December, and have been training with that crew ever since – most recently in the AC45 getting our practice days under our belt."
"A lot of our campaign is self-run. The guys on the team do a lot of work to keep it going and of course we couldn't have done it without the support of SoftBank Team Japan."
"The SoftBank Team Japan sailors have been so helpful. Jason Waterhouse is helping us out on the water, Ryan and Baden are helping in the gym with the fitness program, and Fuku of course has been very helpful as a mentor."
"We're in this event to win it. There's no other reason we'd be here. We're training our best, we'll give it everything, and hopefully we can encourage future Japanese youth sailors to follow in our steps and compete on the world stage," says Tim.
Team mentor, Japanese sailing veteran and General Manager of SoftBank Team Japan, Kazuhiko Sofuku 'Fuku' says having the youth program is great because hopefully it gives them a goal to challenge for.
"The team is a platform for the big goal – ultimately giving young sailors the vision to one day become professional sailors, whether in the America's Cup, the Olympics, etc."
"We're already seeing some talented sailors growing in the youth team and our America's Cup team is taking notice. This is very promising for the future of the team and professional sailing in Japan. SoftBank Team Japan is behind Kaijin Team Japan all the way."

Read More About