What impact does the Red Bull Youth America's Cup have on a young sailor's future? Just ask the athletes who participated in the 2013 edition.
"One of the best experiences that I have had so far in my career."
That's how Sweden's Andreas Axelsson, a "graduate" of the inaugural Red Bull Youth America's Cup, describes the opportunity.
When the first regatta was launched on San Francisco Bay in 2013, Sport Directors Roman Hagara and Hans Peter Steinacher had a clear goal: to find the world's best young sailors, introduce them to the type of big-boat competition seen in elite racing like the America's Cup, and create a stepping stone to a professional career – something the sport had been lacking. As the second edition approaches, the regatta's effect is already evident.
Axelsson is one of two Red Bull Youth America's Cup graduates [along with Volvo Ocean Race winner Luke Parkinson of Australia] on the Artemis Racing team in the 35th America's Cup. He says, "My experience in the Red Bull Youth America's Cup had a big impact on how my career evolved. I was given the chance to continue with the Artemis Racing sailing program as well as developing my sailing skills in these types of boats."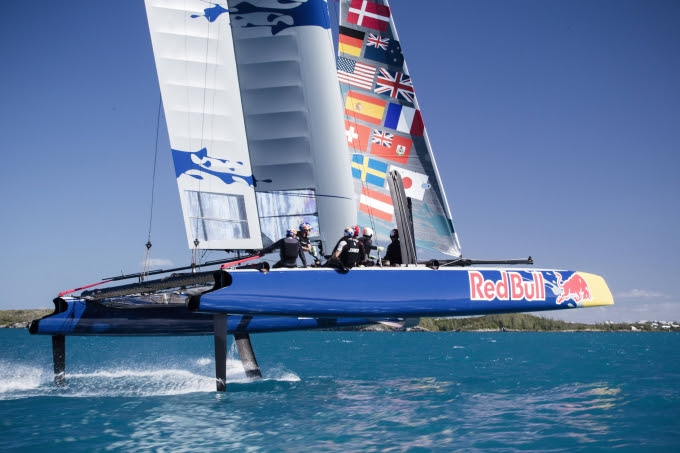 Many of the 18-24-year-old sailors of the Red Bull Youth America's Cup – while exceptionally skilled on dinghies and smaller catamarans – have never worked as part of a large team on a big boat like the five-person AC45 used in the 2013 youth regatta.
Australia's Jason Waterhouse, who earned an Olympic Silver medal after his Red Bull Youth America's Cup experience and joined SoftBank Team Japan for its 2017 America's Cup campaign, describes his first experience on the AC45 as a "white-knuckle ride." He's effusive in his appreciation for the Austrian duo who remain hands-on in developing the skills of young sailors.
"The Red Bull Youth America's Cup added an enormous amount of experience for all my sailing, and provided the necessary pathway for a young, enthusiastic sailor to become an America's Cup athlete like myself," he declares. "The legacy Roman Hagara and Hans Peter Steinacher have created cannot be underestimated for the importance it has had on youth sailing."
It's not only Hagara and Steinacher who mentor the young teams. Being on site at America's Cup venues provides young talent with opportunities for potentially career-changing interactions.
"The Red Bull Youth America's Cup gave me an amazing insight of what Emirates Team New Zealand is all about," says Kiwi sailor Andy Maloney, now a cyclist with that America's Cup innovator.
"Having a few of the senior members like Glenn Ashby and Joey Allen mentor us through that period allowed us to see inside the senior team, and feel the awesome team culture that really stood out to me. It definitely cemented in my mind that the America's Cup was what I would dream of being involved in one day."
In fact, Maloney is one of four members of the team that won the 2013 Red Bull Youth America's Cup who have graduated to the sport's biggest stage on Emirates Team New Zealand, along with Guy Endean [grinder], and Olympic champions Blair Tuke [cyclist/foil trimmer] and Peter Burling [helmsman].
While the Red Bull Youth America's cup offers invaluable experience and exposure, it's still up to those who do get noticed to prove themselves; like American Cooper Dressler, the grinder who came to the attention of Oracle Team USA when he competed in the 2013 edition.
Jimmy Spithill, skipper of the defending America's Cup winner, recounts, "Cooper's story is inspiring. We initially hired him to help pack up our base in San Francisco.
"And he was so enthusiastic and such a hard worker that we decided to bring him to Bermuda and try him out on the shore crew. Again, his attitude was great and he was working out in the gym before his shift started. We needed to add one more sailor and decided to give him a shot. He's grabbed the opportunity with both hands and become a key team member and one of our best athletes."
Now, the graduates of the Red Bull Youth America's Cup 2013 who have advanced to senior teams are themselves getting a chance to mentor this year's young sailors in Bermuda.
"I have been on the water with the youth team [NZL Sailing]. They are a tight bunch of guys, all with great personalities. The advice I'd give them is to make sure they really enjoy their time here, and learn from all of the seriously experienced people that are there to help them out. As long as they are having fun on the water and giving it 100 percent every race, I'm sure they will do well," states New Zealand's Maloney.
In 2017, the Red Bull Youth America's Cup is introducing sailors not only to a big boat, but a big foiling boat – the AC45F. Maloney predicts that the flight of the AC45Fs above the water at a potential 37 knots or more will inspire not only the young crews, but the next generation as well, saying:
"Racing foiling catamarans is seriously exciting. I think the close pre-start action and high speed duels around the race course in this America's Cup will really motivate a bunch of young kids to give sailing a go."
The Red Bull Youth America's Cup gets underway in Bermuda this summer with Pool A and B Qualifiers June 12-16, 2017, followed by the Finals scheduled for June 20-21.

Read More About