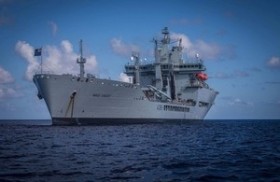 The Royal Fleet Auxiliary ship RFA Wave Knight arrived today [May 25] as "part of UK's support towards Bermuda's preparations for the Americas Cup."
A spokesperson said, "RFA Wave Knight is on deployment to the region as part of her Atlantic Patrol Tasking [North] duties, a year round commitment to the UK's Caribbean overseas territories and Bermuda, wider regional humanitarian aid and disaster relief and counter narcotics operations.
"The visit to Bermuda coincides with the hosting of the America's Cup in Bermuda, the first time such an event has been held in a UK Overseas Territory. The visit marks the second time this year that the RFA Wave Knight has undertaken a port visit to Bermuda.
"Building on strong liaison links from her earlier visit, RFA Wave Knight will provide logistical support to the Bermuda Police Service and Royal Bermuda Regiment during the opening of the Americas Cup and will witness the opening ceremony.
"During RFA Wave Knight's visit the Governor hosted a working lunch with the Commanding Officer, who also paid a call on Premier, The Rt.Hon Michael Dunkley."
Bermuda Governor John Rankin said, "Once again, we welcome the visit of RFA Wave Knight to Bermuda and we are grateful for her logistical support to the Police and emergency services during the start of the America's Cup; helping to ensure the safety and security of residents, participants and visitors alike during an event that will raise Bermuda's profile significantly across the world."

Read More About
Category: All