SoftBank Team Japan sailors and their families are in the process of completing the move to Bermuda to prepare for the America's Cup, with containers with the team member's personal effects arriving recently.
The team said, "Sailors and their families are in the process of completing the move to their new homes in Bermuda as SoftBank Team Japan ratchets up preparations for the 2017 America's Cup.
"Although the last challenger to enter the competition, the team is quickly making up for lost time, breaking ground on a new team base at the Royal Naval Dockyards on the Great Sound.
"The arrival of the team's AC45F next week will complete the package as they aim to get on the water quickly and take advantage of training on the future race course for the 35th America's Cup.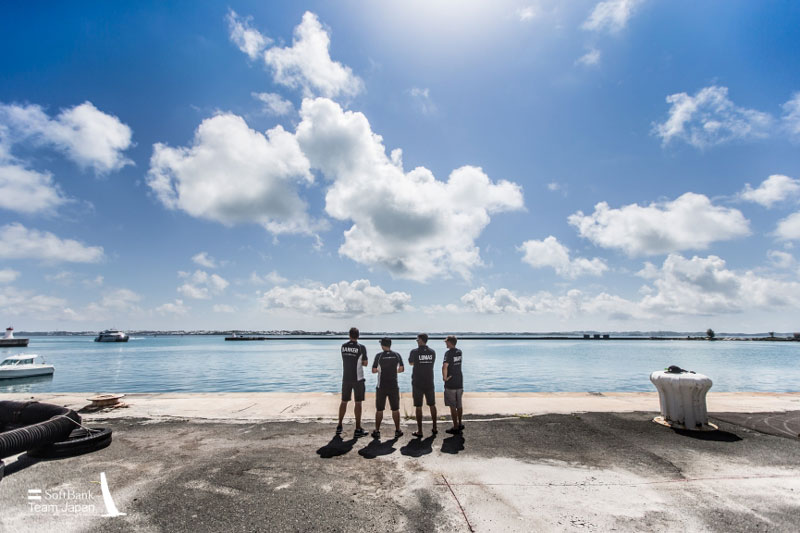 "There's a lot happening", said team CEO and Skipper Dean Barker. "It's been a bit of a process getting here and getting sorted with all the logistics, but our Bermudian community have been very helpful with everything we've needed."
"Over the past month, four of the five sailors and their families have completed moving to Bermuda, settling into new homes and adapting to the logistics of living in a new country. Containers with the team member's personal effects arrived last week. Included were the sailor's beloved single-handed Moth sailboats that will see use in the coming weeks as training platforms.
"We've found we're haven't spent a lot of time sailing which will change", said Barker. "The key thing is for the families to be happy and comfortable. It's important to get everyone up and running quickly because we have pretty hard timelines we got to meet. The shore crew is getting in this week. Next month is pretty busy."
Before the team's AC45F arrives, Barker has encouraged other forms of competitive sailing to keep the team in top shape.
Members of the sailing team are competing in RC44 and Extreme 40 events this week and the team will also make its World Match Racing Tour debut next weekend competing in the Royal Bermuda Yacht Club's Argo Group Gold Cup.
Meanwhile, last week bulldozers and dump trucks started the busy task of resurfacing the Dockyard space that will become the team's home base for the next 21 months. Temporary structures will be built next week ahead of the Louis Vuitton America's Cup World Series Bermuda with larger, semi-permanent facilities erected in early December.
"We're operating in some borrowed space at the moment but it will be nice to have our own base to go to work at each day. It's going to be exciting times," Barker said.
"Containers with the team's temporary facilities and the AC45F catamaran are scheduled to arrive next week with the team ready to start foiling on the Great Sound October 15th."

Read More About