[Written by Talbot Wilson]
Monday morning the forty-seven boat Marion Bermuda Race fleet was in a bunch from 225nm away from Bermuda to about 310nm out. They are trying to make their way, but having a tough go of it.
Boats at the top of the YB Tracker's Leaderboard are 'Lucy Georgina', XP44 skippered by Peter Bacon, the scratch [fastest] boat 'Jambi', a new Hinckley Bermuda 50 skippered by John Levinson and 'Tenacious', a J47 owned by Barrett Levenson.
The top 11 boats on the line honors Leaderboard were showing a distance to go within 10 miles of each other doing 1.2 recent VMG [velocity made good] to the finish in Bermuda. The winds they are in are under 6kts. The back of the fleet seemed to be sailing out of a better breeze, catching up to the leaders and slowing down as they did.
All of the yachts carry YB Trackers and can be followed on here.
Now at the top of the YB Tracker's Leaderboard is 'Lucy Georgina', XP44 skippered by Peter Bacon. The Marion Bermuda Race started Friday June 9th. Boats will head to the Royal Hamilton Amateur Dinghy Club after finishing off St. David's Lighthouse, Bermuda. Photo by Talbot Wilson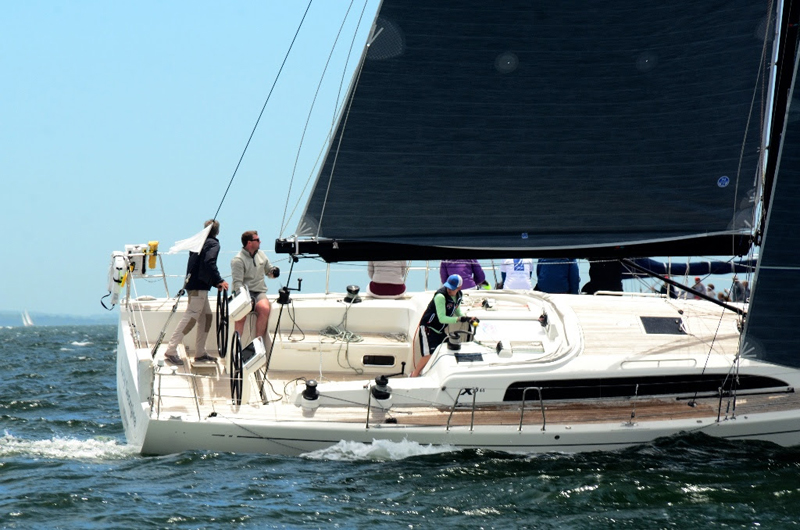 Crew-writer Scott Snyder summed it up Monday morning in his "Pearls from Oyster", Paul Hubbard's 'Bermuda Oyster', for spectators at the Royal Hamilton Amateur Dinghy Club:
All is well. Extremely slow going, saw boat speeds less than 1kt at points

Asym spin up, trying to use it as a big jib to go… anywhere at the moment, just keep the boat moving and vaguely pointed at Bermuda
Mahina Kai, in Class B, a Oyster 54 skippered by Arthur Wayne Haubner blogged from the Gulf Stream to the race web site about Day 3:
Wind SW 8.4kts Seas 1-2ft. This morning marks our half-way point to Bermuda!

One of the complexities of crossing the Atlantic Ocean is remediating the impacts of the gulf stream current. Most of us know about the basic current flow from the Gulf of Mexico, around Florida, to northern Europe, which then sinks as a cold current and returns South.

In reality though, there are arm-like offshoots from the main current, and large areas of spinning cold or warm eddies that can stay active for years. These create beneficial or opposing currents that can help or hinder progress.

A second complexity is the prevailing weather. Two years ago, remnants of TS Bill, moving through New England and easterly off shore created strong winds in opposition to the gulf stream current. This combination increases the seas, wave heights, and compresses the wave frequency, and made for a very rough ride.

This year, a gale moved North of New England before the start, giving us a lively sailing day for the start, but has now left us with several areas of high pressure and relatively calm weather now.

Part of the strategizing of this race is to determine the impacts of the main gulf stream and the eddy currents which may be moving in favorable or unfavorable directions.

All the boats are sailing their own race now, and are trying to determine the best path through the gulf stream. Each vessel wants to take advantage of these currents, especially considering the light winds, to position themselves for a good approach to Bermuda upon existing the steam.

Have seen a couple pods of dolphins swimming nearby, and a few sea birds.

Thai peanut noodles for lunch, dinner of Lasagna, Cookie of the Day: Frosted starfish
'Faith & Hope'Jim Putnam's Northeast Mk1 38 'Faith & Hope' has an all family crew. Jim, the grandfather, 71 right on to grandson Asahel, 10 years old… on the bow. The little yawl got a nice start in the Marion Bermuda Race. Photo by Talbot Wilson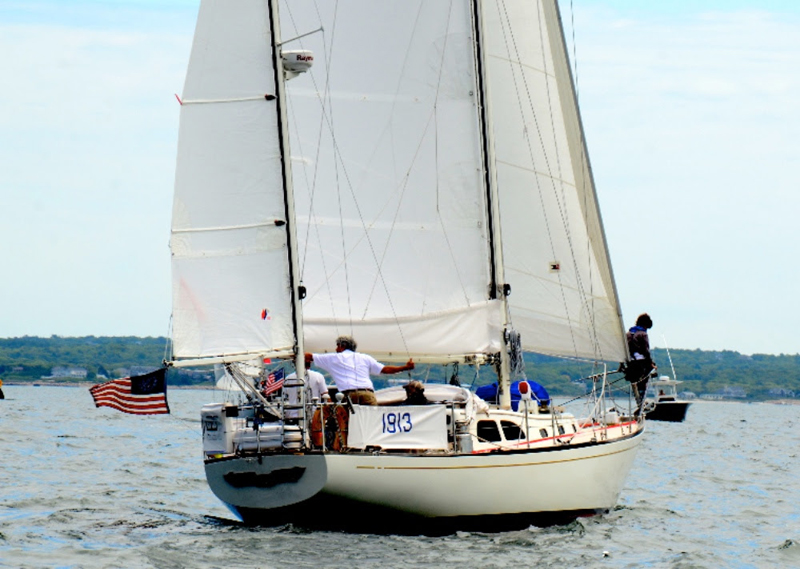 In another boat blog from the family crewed Northeast Mk1 38 'Faith & Hope' Jim Putnam wrote:
True Wind: 5 knots/SW. Sea State: lumpy following

Hot day meant we could get our shorts on at last. Mostly clear sky's heading for the Gulf Stream. Dolphins playing in our bow wave.

After months of studying the GS we finalized our strategy and took the plunge Into its warm waters at last, making good time with our spinnaker. A sudden GS squall [30+ knts] made life interesting for Jacques and Seth on the foredeck as we doused the asym and unfurled the Jenny.

Now rolling along watching the moon and clouds making a shadow play as the moon lights the clouds from behind outlining their many shapes.

Counting ourselves lucky to have a sturdy, well equipped craft and capable compatible crew, Jim and Jacques
Race Blogs are posted on Boat Blogs. Four boats, 'High Cotton', 'Momentum', 'Wind Tango' and 'Black Mallard,' have returned to ports on the east coast. Race news is posted at Marion Bermuda Race

Read More About