[Updated] A memorial service for Shawn Crockwell is taking place this evening [June 19] and the funeral is scheduled for 4:00pm tomorrow at the Southampton Seventh-day Adventist Church, and both are scheduled to be live streamed online here.
The family has asked that in lieu of flowers, donations can be made to P.R.I.D.E. Bermuda , 25 Point Finger Road, Paget DV 04 [P.O. DV 212, Devonshire DV BX], and online donations made via pridebda.bm.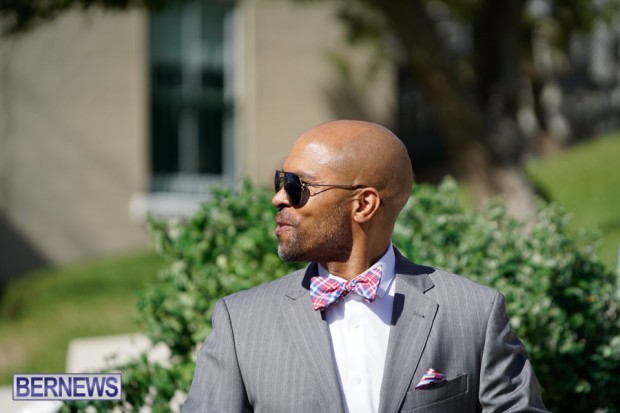 In a message left behind, Mr Crockwell said, "It was my greatest honour to represent Bermuda at the highest level.
"To have given 10 years to my country from becoming the Chairman of the United Bermuda Party, to an elected member of Parliament, the creation of the Bermuda Democratic Alliance, the One Bermuda Alliance, the Minister of Tourism & Transport, and finally to sit in your House as an Independent, ultimately becoming a voice for the voiceless.
"It has been rocky at times, but to have done all of that was the greatest achievements and proudest moments of my life.
"My parting words to you are that I want more than anything for the country to come together and confront our differences and to figure out a way to work together to solve them.
"People need to be honest. We need honesty in this community. We all need to be honest about where we have been and how we got to where we are and what needs to be done to help us get where we need to be. Life is too short for hate.
"We get caught up in people's personalities, and we ascribe negative labels to people because of our differences. I hope that those who feel animus towards me can get over that, because I am at peace.
"I wish everyone the best, good health, prosperity and love, because that is what we are missing. We are missing that 'love thy neighbor' in Bermuda
"It was my pleasure to be your representative in Parliament and on the international stage. Thank you for allowing me to serve, I am grateful."
The memorial service is now underway and you can click here to watch on the Southampton SDA website.
Update 8.30pm: The memorial service has ended, with a number of people delivering heartfelt tributes including David Dodwell, Leah Scott, Wayne Furbert, Derrick Green and many more. The funeral tomorrow at 4pm is scheduled to be live streamed as well.
Read More About