[Updated] "I woke up to a world today that will never be quite the same," Mark Pettingill said, adding that he realises that many people are stunned by Shawn Crockwell's death and are questioning the cause, and said "his struggle with his health led to this escape," and urged people "to accept this and rejoice in the life of this special human being, his journey, his rise, his fortitude, his character."
Mr Pettingill and Mr Crockwell had been very close friends for many years, working together in both politics and their legal practice, and Mr Pettingill paid tribute to his best friend saying, "he was a true beacon to all of us that at some time may falter in our lives, [showing us] that with hard work and determination and love, great things can be accomplished."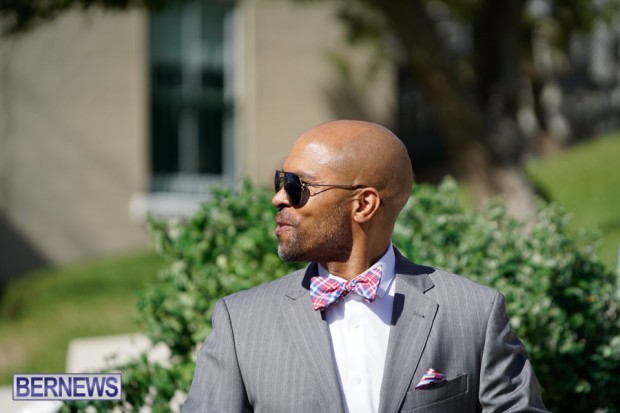 Mr Pettingill said, ""I woke up to a world today that will never be quite the same, not because of the death of my best friend, but because of his life.
"Shawn Crockwell was iconic. He was incredibly intellectual, erudite, caring and kind, coupled with a rapier wit. He was deeply loyal to his family and friends and courageous in his beliefs, steadfast in his ability to reflect on his own views and accept his own consideration and assessment to change his stance if driven to the conclusion that it was the right thing to do.
"[He had] a wisdom few can lay claim to. He loved Bermuda and its people and wanted the best for us, embracing change if that's what was called for. Despite his public persona, he was a very private person and had suffered for some time with bouts of ill health. I realise that many people are stunned by his passing and are questioning the cause.
"Having his confidence, as I did, and given communications between us in the hours before this tragedy, I must accept that his struggle with his health led to this escape. I would please encourage people to accept this and rejoice in the life of this special human being, his journey, his rise, his fortitude, his character.
"He was a true beacon to all of us that at some time may falter in our lives, [showing us] that with hard work and determination and love, great things can be accomplished.
"I know today mine is not the only broken heart and the depth of despair and grief of his family must be immeasurable. I can only pray and hope that one day, not far away, the pain will be replaced with only smiles.
"The smiles that 'Crock' in one way or another brought to so many in our island home. I don't know yet what Butch Cassidy did without the Sundance Kid but to carry his indomitable spirit and light always in heart and mind must be the answer. Peace and love."
Update 10.22pm: On behalf of the Crockwell family, Mr Pettingill said, "They wish to thank everyone that has given such an outpouring of love and support in relation to the loss of their beloved son Shawn.
"They would please ask that people not speculate in relation to the cause of death. Once the inquiry into the circumstances of his passing are finalised, they will issue a further statement. I would ask that people, at this time, respect their privacy."
Read More About