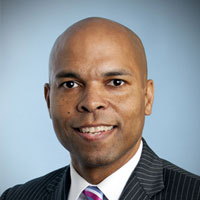 [Updating] The police have just confirmed the death of MP Shawn Crockwell, saying he was "found in an unresponsive state at a Hamilton parish residence around 4pm today."
A police spokesperson said, "The Bermuda Police Service regrets to announce the death of Mr. Shawn Crockwell JP MP.
"We extend our sincere condolences to his family, colleagues and friends.
"Mr. Crockwell was found in an unresponsive state at a Hamilton parish residence around 4pm today [Saturday, June 10th].
"He was subsequently pronounced dead at the scene by the attending doctor. Initial inquiries suggest that foul play is not suspected.
"A full enquiry regarding the sudden death of Mr. Crockwell is now underway, and a Family Liaison Officer has been appointed to offer support."
Numerous people are expected to pay tribute to the well known lawyer and MP, and we will update with those tributes they come in.
Update 7.23pm: Opposition Leader David Burt said, "The members of the Progressive Labour Party are stunned and deeply saddened to hear of the sudden death of one of Bermuda's honourable sons Shawn Crockwell.
"Shawn was a rare man of conviction and courage; when communing with him, you could clearly see that God granted Shawn the courage to promote, defend, and pursue his convictions regardless of the favour or foul of any observer. I believe Shawn's life was a testament to the heights that can be attained if one strives to overcome formidable obstacles.
"Many have convictions, fewer have the required courage to stick to them, and fewer still use those gifts to serve their fellow man. Shawn Crockwell did so both in his vocation and his profession and those he served will no doubt miss his counsel and compassion.
"Out of respect for Shawn's sincere and meaningful contribution to the political discourse in our beloved country, the PLP will be suspending all campaign activities and advertising for a period of 48 hours.
"We extend our most heartfelt condolences to Shawn's family and loved ones during this time. Bermuda will be all the poorer for your loss," concluded Mr Burt.
Update 7.53pm: Premier Michael Dunkley said, "Late this afternoon, I was informed by Police of the death of Shawn Crockwell.  It is devastating, shocking news, and it hurts.
"On behalf of colleagues in the One Bermuda Alliance and the people of Bermuda, I extend deepest condolences to Shawn's family – his children, his brother and sister, his mother and father, of whom he was so proud and inspired by. I can't imagine the trauma they are going through right now.
"Despite our recent political differences, Shawn remained my good friend. Together we watched our beloved Dallas Cowboys, talked Premier League football and had laughs. He was one of the brightest, most talented people I've had the pleasure to know.
"No one overcame his personal difficulties with more flair and accomplishment than Shawn, completing his law degree in prison and emerging to be an effective advocate for people.
"On the floor of the House of Assembly, he was a gifted and compelling speaker – smart, logical and passionate, always interesting. When Shawn spoke, the Chamber listened.
"As a Government Minister, he was effective, getting things done, and he brought razor sharp intelligence to the Cabinet table.
"This is a tragedy that is incomprehensible to me. Shawn was a Bermudian success story, full of promise and possibilities. I will miss him."
Update 8.06pm: OBA Chairperson Lynne Woolridge said, "It is with a profound sense of shock and sadness that we learned today of the death of our colleague, Shawn Crockwell.
"Shawn's enthusiasm, passion and dedication to serving the people of Bermuda was unquestioned. Shawn will be missed, but his legacy and his work to uplift all Bermudians will live on.
"As a mark of respect, and as we come to terms with this tragic loss, the OBA will be suspending election campaigning until further notice. On behalf of the people of Bermuda I offer my sincere condolences to his family, associates and friends."
Read More About