The Footy STAR program will begin with sessions between July 14 and 26, with the program including individual football training; small group football training [4-6 players]; early morning large group football training; goalkeeper sessions; showcase football match; and a nutrition seminar.
A spokesperson said, "Field Sessions will be conducted by Kenny Brown – UEFA Pro License Coach [Millwall FC's Director of Coaching]. Mr. Brown is an ex-premier league player, who played with Norwich, West Ham, Crystal Palace, Reading and Millwall, with coaching experience spanning more than 15 years."
Mr. Brown, Director of Coaching for Millwall FC, said, "I am really looking forward to visiting Bermuda for the first time and especially to get the opportunity to work with the players and staff from Bermuda. I am interested in sampling the culture and meeting the Bermudian people, who I have only heard great things about."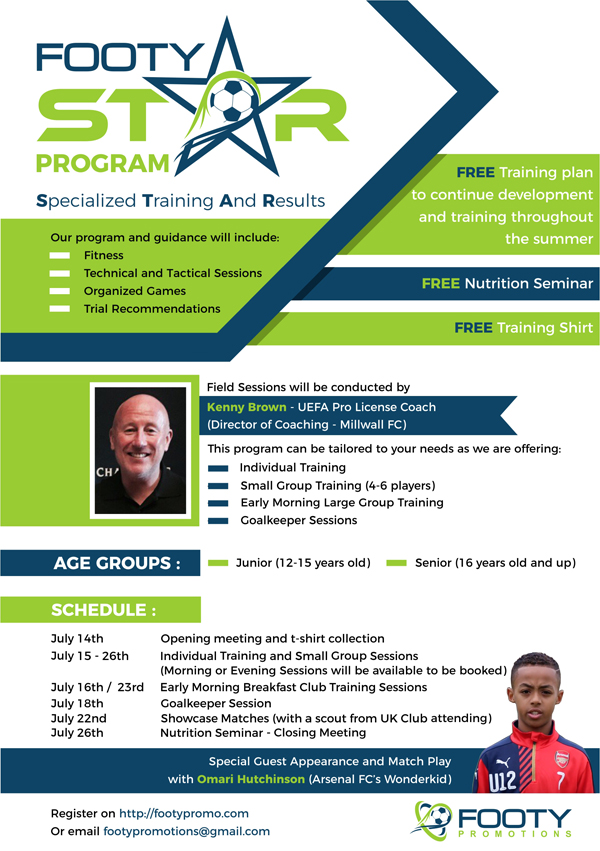 "There will also be a special guest appearance and match play with Omari Hutchinson [Arsenal FC's Wonderkid].
"The sessions are open to male and female players 12-15 years old [Junior Group] and 16 years old and over [Senior Group]."
Vinzie Zuill President of Footy Promotions, said, "This is an exciting new program for the football players in Bermuda, which focuses on player development. We feel during the summer is a great time to personally prepare yourself for the upcoming session, school league, professional environment or individual goals.
"We are looking forward to the launch of the STAR program. The program will commence with a message from Kenny Brown on July 14th. Then will continue with personal training sessions until July 26th.
"On Sundays, we will be hosting early morning "Breakfast Club" sessions, were players can challenge themselves to wake up early to train.
"In the field sessions the players will be working hard to improve their skills. Therefore, they will be given an opportunity to showcase their talents in our Showcase matches on July 22nd in front of a Scout from a Professional UK Club and also family and friends. We also are offering sessions for goalkeepers.
"The program will conclude with a closing message and nutritional seminar.
"Players should attend the STAR program as it is a platform to train at a high standard and also a possibility to be scouted by a Top Club."
"Registration is available on our website or by emailing footypromotions@gmail.com. Registration includes a free training shirt. The deadline for registration is July 7th, 2017."

Read More About